Kazamatsuri.org Podcast: The Monthly Terra March & April 2015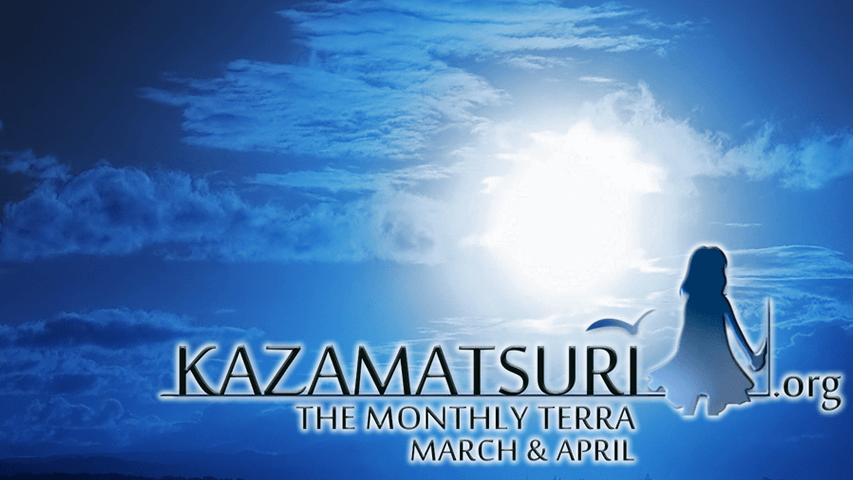 Get ready for the biggest, baddest (best) Monthly Terra ever! We skipped a month because reasons, and decided to combine two months worth of news and community happenings into one podcast. Needless to say, it's pretty crazy how much content we've prepared to talk about here! There's even some new things you might not've known about before! Joining me this month are Bizkitdoh, Pepe, EisenKoubu and Rabla! It's been a while since we've seen Rabla's face on the podcast, so it's great to have him back. We also had Kaze on for the first time for a special mini-podcast on character1, thanks for joining us Kaze! I put extra effort into the video of this one, so I highly recommend giving it a watch for some extra visual stimulation! Considering the amount of time and effort it required of me, I somehow doubt you'll ever get a podcast with this much video again, so enjoy it while you can! Yahaha. And don't forget to check out our special announcements at the end!
As always, you can subscribe to our xml feed here, or download an mp3 of the podcast here.
2:03 - Kazamatsuri.org's New Staff
3:52 - AIR Bookclub
6:31 - The Tangles Anime Podcast
7:42 - Hikikomori no Uta Subbed
9:45 - Todoketai Melody, Harmonia PV Subbed
12:31 - Charlotte News: Post 1, Post 2, PV Subbed.
19:22 - Angel Beats! Cafes: Post 1, Post 2.
21:20 - Angel Beats! CGs: Post 1, Post 2.
22:23 - Angel Beats! -1st beat- Delayed
22:48 - Angel Beats! -1st beat- First Press Limited Edition Contents
24:22 - Heartily Song: Released, OP Subbed.
29:46 - CLANNAD International Edition Production Update
31:01 - VisualArt's English Facebook Page
36:46 - Everything We Know About Charlotte So Far
+ Everything We Know about Harmonia So Far
38:36 - Comiket Special, planetarian English Edition physical release
Key 15th Fes.
43:29 - Akiba Base!! Special Coverage, ~Rindou~ Na-Ga Art Works Released
45:30 - KSL Live World Special Coverage
48:11 - Key Points 7 Special Coverage
50:12 - Key Radio Fes
51:27 - Angel Beats! -1st beat- Trial Edition Released at character1
52:00 - Special character1 Mini-Podcast!
1:01:48 - Key's Upcoming Event Schedule
1:03:36 - COMMUNITY KOOOONAAAAAAA
1:04:27 - Kazamatsuri.org Radio Returns!
1:05:23 - The aftermath of EisenKoubu's binge reading of LB and Rewrite. (Check out all the route and character topics!)
1:06:40 - THE GREAT MOON DEBATE (or whatever it is)
1:06:45 - Kaza Movie Nights
1:09:44 - Biz's Angel Beats! Topics
1:12:25 - Let's Learn Japanese!
1:13:57 - Kazamatsuri.org World Map
1:16:07 - Kazamatsuri.org Calendar
1:16:58 - MasaKaga After ~Muscle Memories & April Fools Shenanigans
1:19:51 - Special Announcements!
Music used:
0:00 - Mission possible ~but difficult task~ - Little Busters! Original Soundtrack
3:53 - Tori no Uta (Bird's Poem) - The KEY Anthology Saxophone Collection by Japesland
7:42 - Hikikomori no Uta by Jun Maeda
9:55 - Todoketai Melody (Conveyed Melody) -off vocal Ver.- by Ayaka Kitazawa
11:49 - Towa no Hoshi e (To the Eternal Star) -off vocal Ver.- by Haruka Shimotsuki
12:36 - Charlotte PV2 BGM
15:33 - Last Song by Marina
16:24 - Ana - CLANNAD Original Soundtrack
19:14 - Theme of SSS - Angel Beats! Original Soundtrack
22:23 - Anxiety - Angel Beats! Original Soundtrack
24:29 - Heartily Song (Instrumental) by Lia
29:46 - Ushio - CLANNAD Original Soundtrack
31:27 - Shine Days (KAN TAKAHIKO Remix) - Keep The Dancing Beats!
38:12 - Alchemy (MUZIK SERVANT vs you Remix) - Keep The Dancing Beats!
41:41 - Hikari ni Yosete (Gather the Light) - efflorescence
45:32 - Crow Song [Live] - KSL Live World 2010 ~way to the Kud-Wafter~
52:00 - Sanka (Scattered Flowers) (Mikoto* Rewrite Remix) - Snowdrop by Black Berry Recordings
1:01:15 - Higashikaze (Spring Wind) - CLANNAD Original Soundtrack
1:06:08 - Hinagiku (Bellis Perennis) - Soil
1:09:44 - enemy country - Angel Beats! Original Soundtrack
1:14:07 - Kajitsu (Fruit) - Rewrite Original Soundtrack
1:16:50 - Little Busters! -Take Off- (Instrumental) by Yukizakurasou
1:18:39 - BGM51 - Little Busters!
1:19:44 - Farewell song - HoKey PoKey -Key Cover Song Collection- by mahilo