Key 15th Fes. Akiba Base!! Special Coverage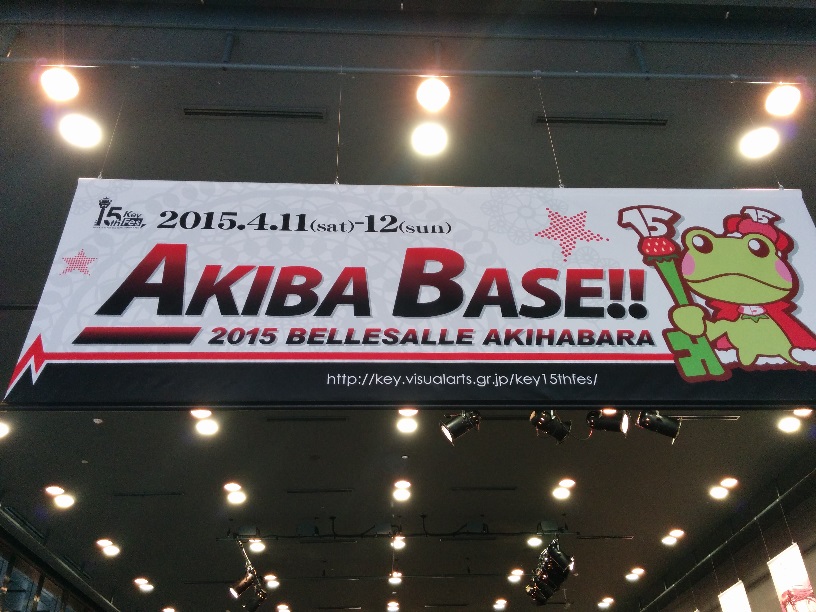 On April 11 and 12, 2015, Key organized a special event in commemoration of their 15th anniversary, entitled Key 15th Fes. For those not familiar, Key 15th Fes. is split into two major events, the first being Akiba Base!! at Bellesale Akihabara, and KSL Live World way to the Angel Beats! -1st- at Differ Ariake. Fortunately, forum member Pepe was able to attend both events, and is bringing you this special coverage, so that Key fans all over the world will find out how Key celebrated their 15th anniversary!
---
Hey everybody, Pepe here! Last weekend was an amazing weekend for Key fans because of not just one, but three Key-related events that occurred, and I'm here to tell you all about the first event: Akiba Base!! 2015 Bellesale Akihabara. Akiba Base!! was a two day event that ran from 12:00 pm - 8:00 pm on April 11, 2015, and 10:00 am - 6:00 pm on April 12, 2015.
I arrived at Akihabara on April 11 at about 12 pm and went straight to Bellesale. It was actually pretty easy to find, and is right at one of the main intersections at Akihabara! It's a huge building, with the first floor made as an open-air exhibit space, and that's where Akiba Base!! was held. Upon arriving at the venue, I was immediately greeted by the Angel Beats! Itasha parked right outside the building.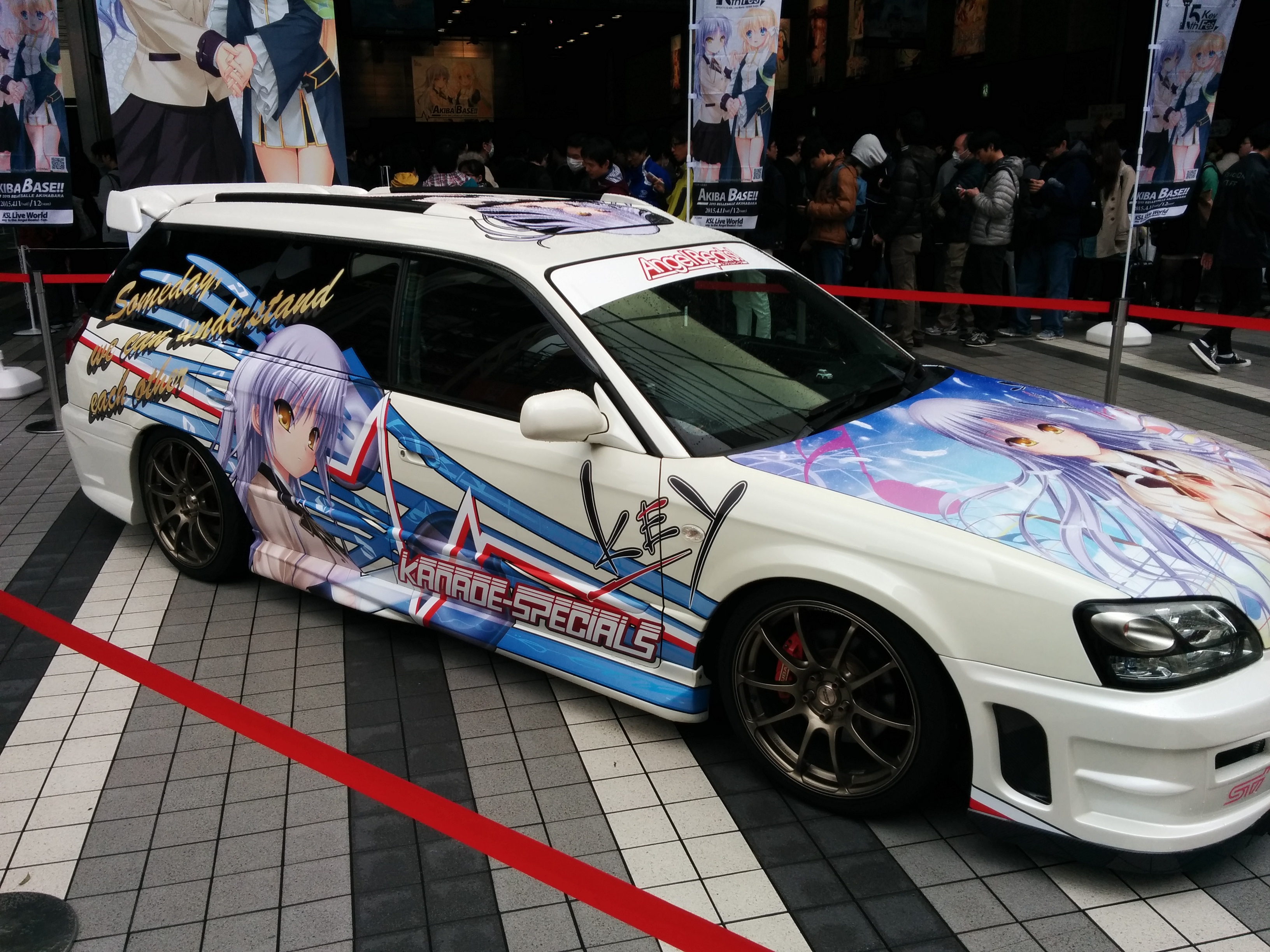 The Kanade Specials car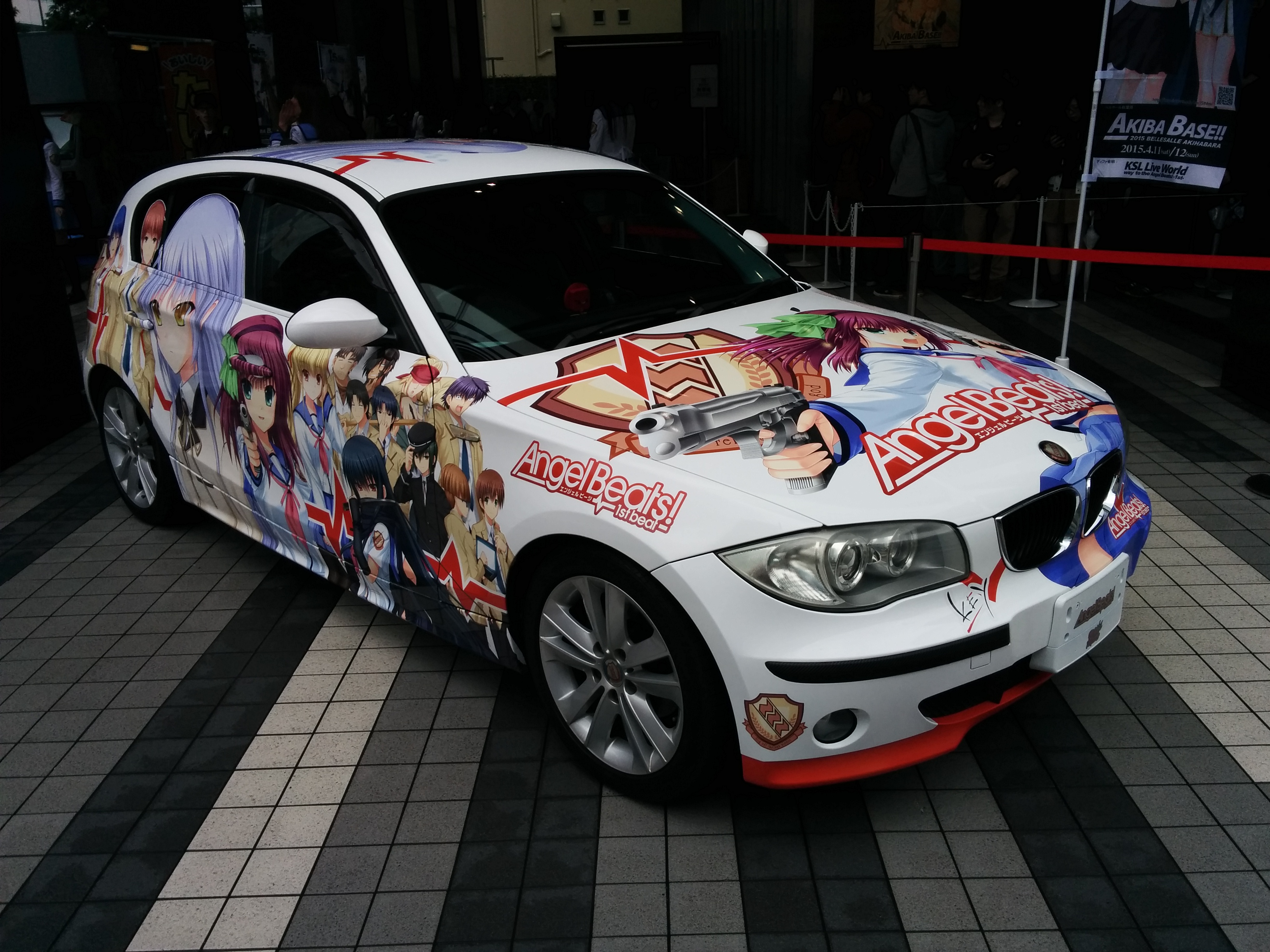 Angel Beats! -1st Beat- special BMW
There were a total of four booths available at the event space. The first booth was a small truck selling Taiyaki! I'm sure fans of Kanon would recognize the small, fish-shaped treat as Ayuayu's favorite treat in the series. They had three flavors available: The classic red bean, Custard Cream, and Chocolate.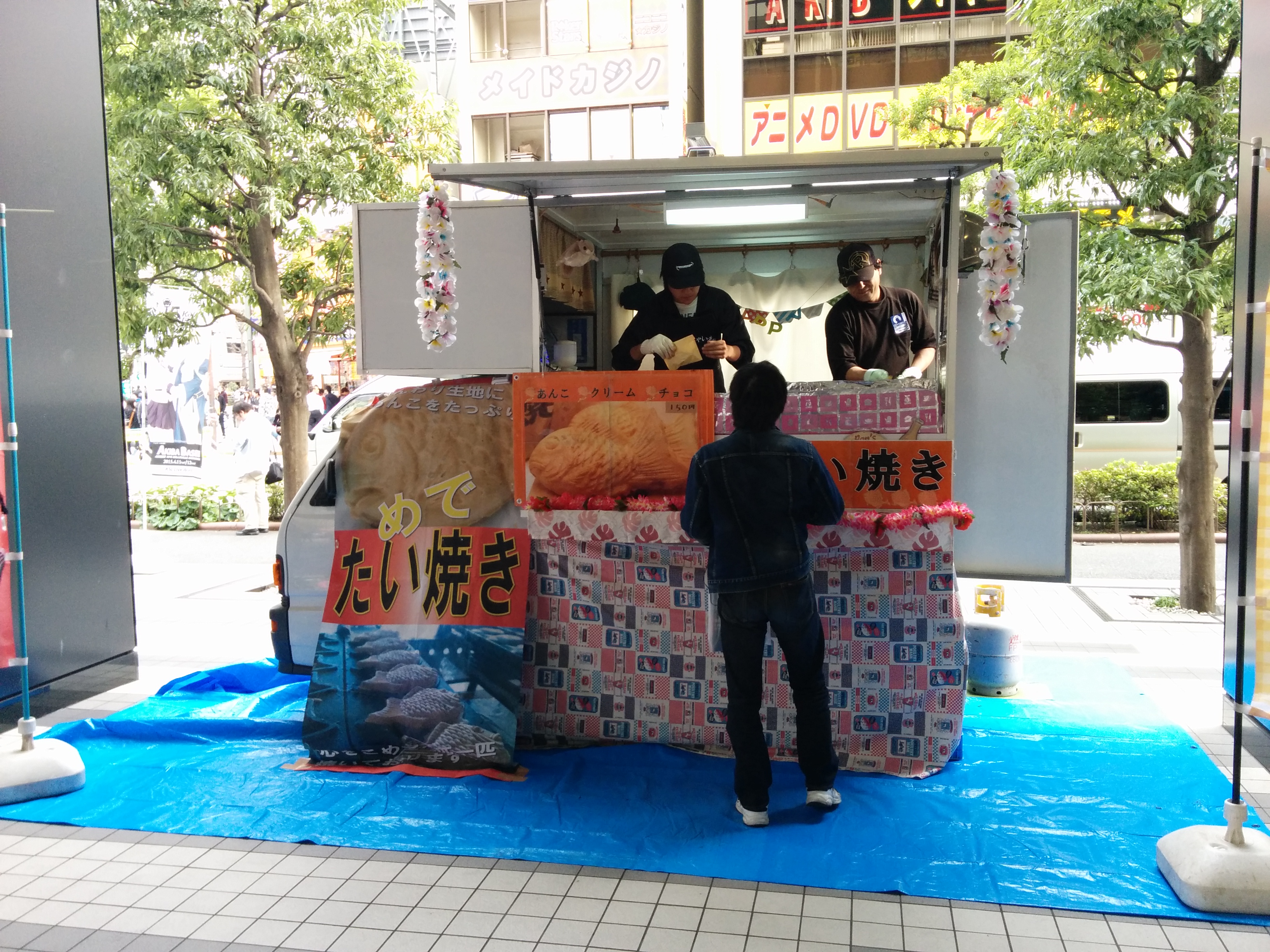 うぐう!たい焼きです!
The second booth available was the Cospa Booth! Cospa is a pretty well-known anime goods manufacturer that specializes in clothing, specifically, cosplay goods. They sell T-shirts, bags, cosplay accessories, and other goods. Frankly, they have some of the highest quality anime-related shirts available (also some of the most expensive ones). They featured their entire Key catalogue of goods, along with some new items made specifically for Key 15th Fes.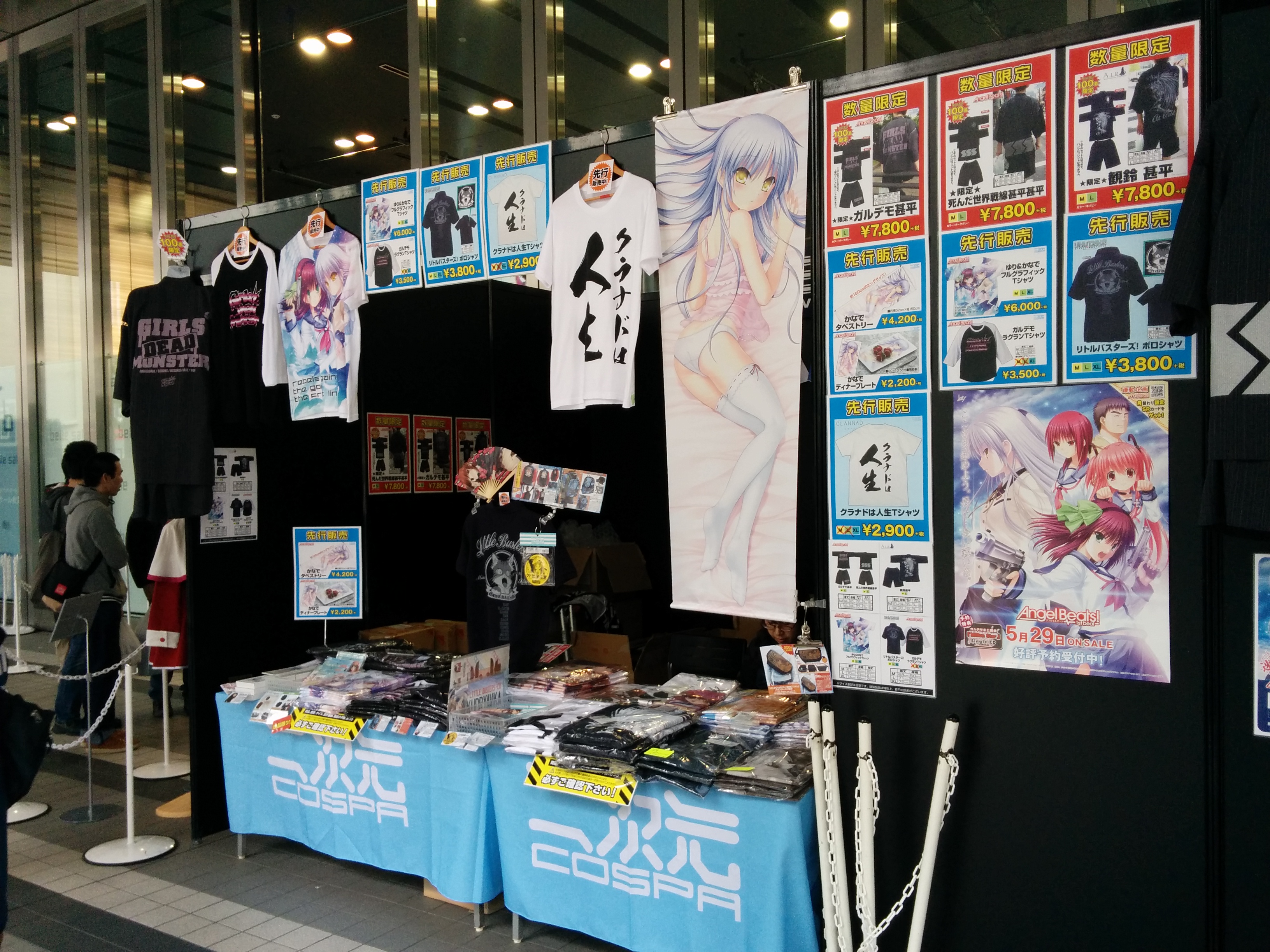 Show off your power levels with these shirts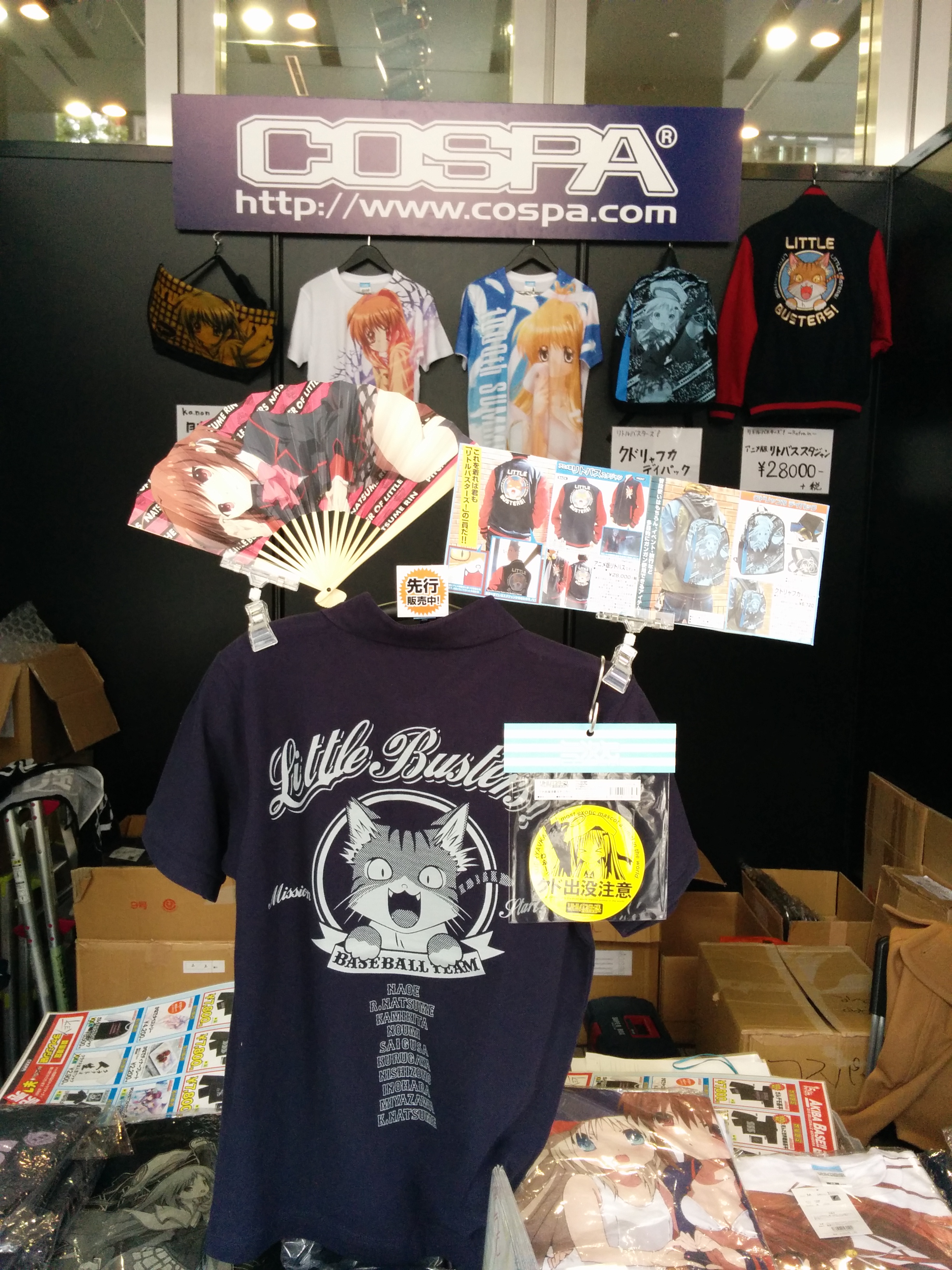 Newly released Little Busters! Polo shirt. With more shirts in the background (and the 28,000 yen embroidered LB Jersey)
The third booth was a target range booth! This booth was only available for customers who were spent at least 15,000 yen on the Key main sales booth. They were giving some neat prizes, such as a Botan plushie and special Key mugs.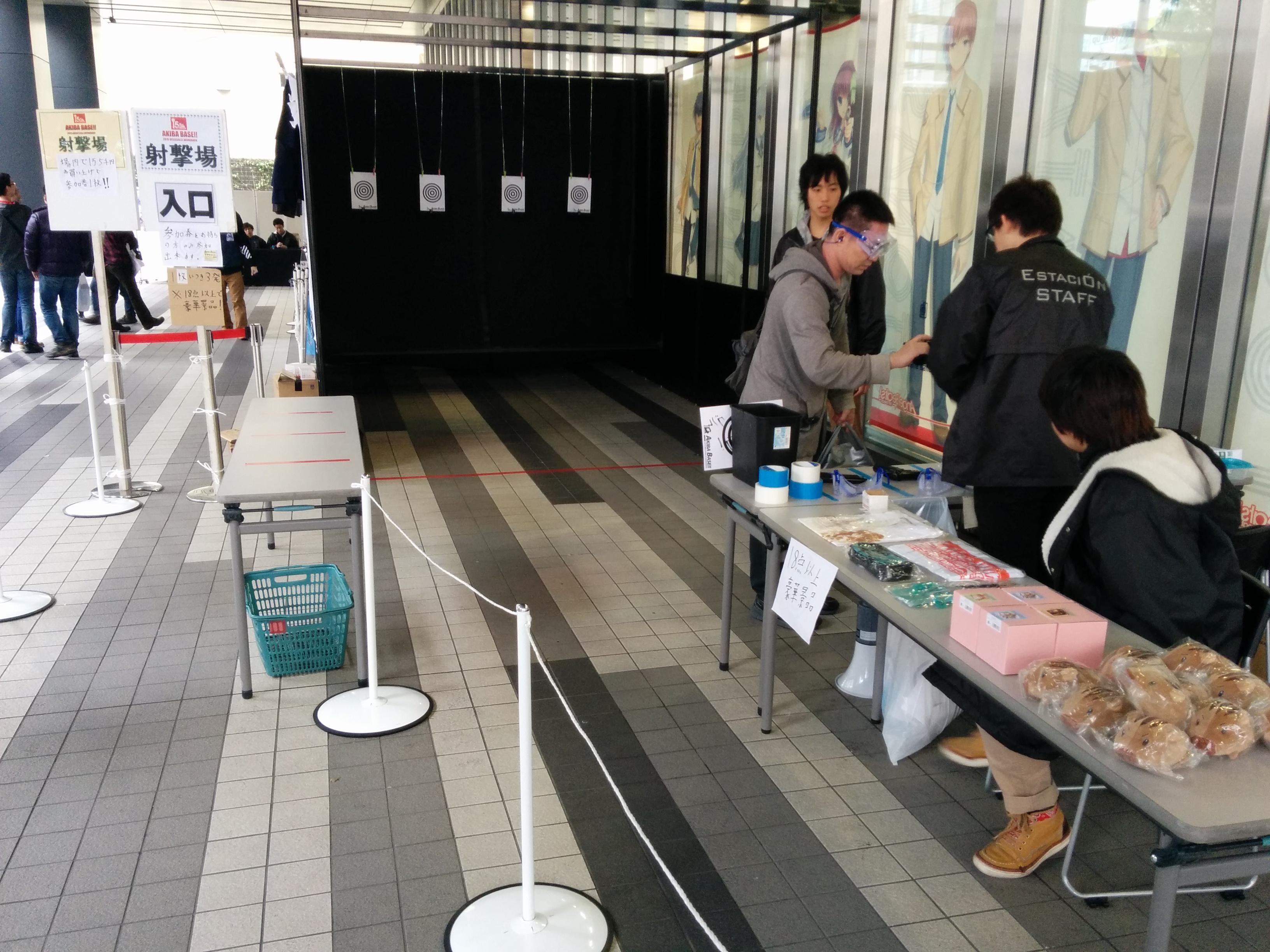 Hone your shooting skills in prepration for joining the Afterlife Battlefront!
The last, and most important booth in Akiba Base!! was Key's main sales booth. For most of the beginning of the event, the line was taking up the entirety of Bellesale's first floor. I lined up at around 12:15, and at that point, the line extended all the way to the back of the building. I took the time to take a short video while lining up, and you can view it here:
Needless to say, I waited in line for a total of 1 and a half hour to finally purchase the goods I wanted. The goods available for sale were previously announced on the Key 15th Fes. website. However, as early as 12:30 am, a few of the items were already sold out. Never underestimate the Japanese fanbase's power to line up.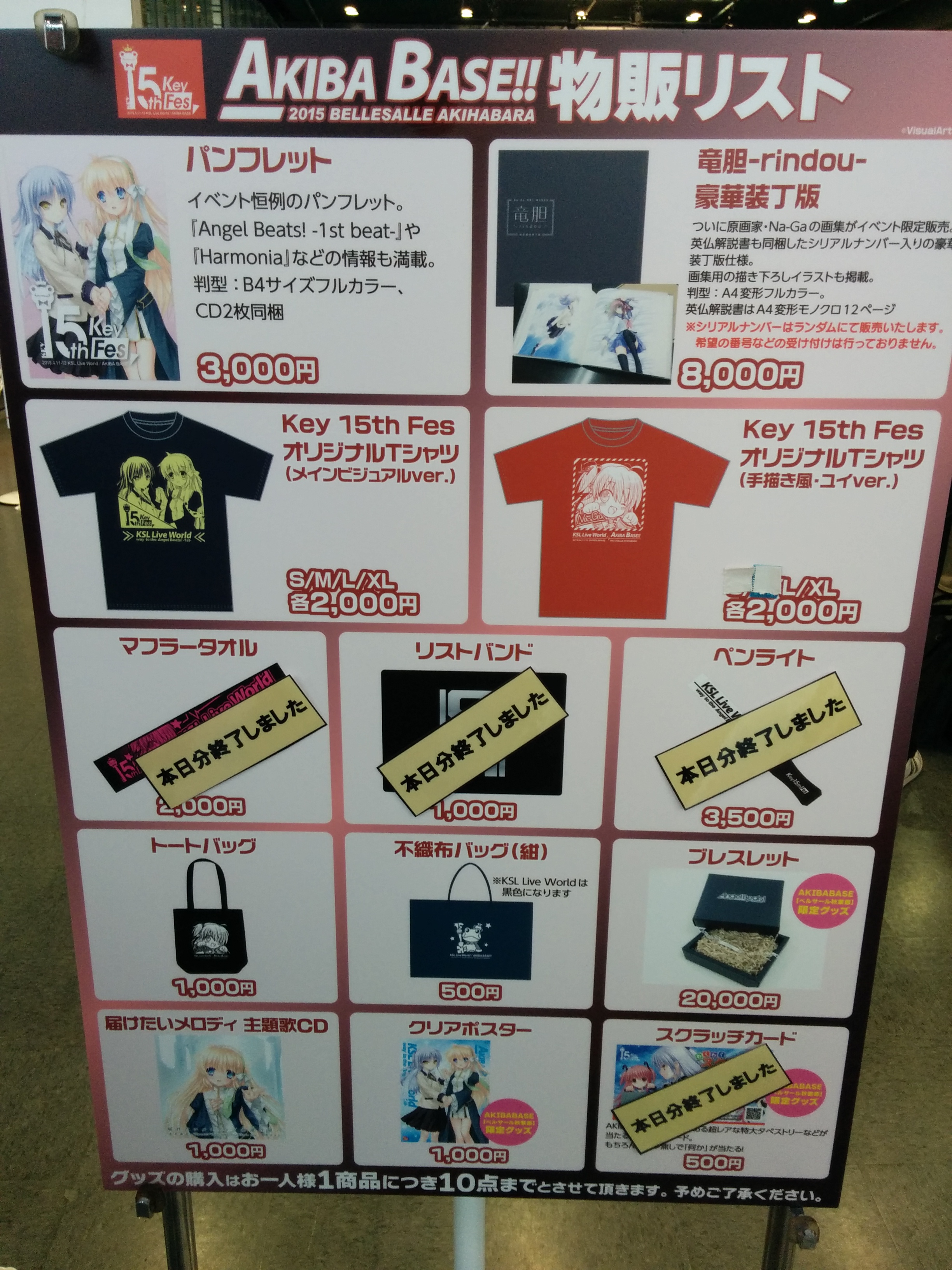 By the end of Akiba Base, these were the only items available
Inside the event space, they had tapestries all around, advertising Key's previous works and, more prominently, Angel Beats! -1st Beat- and Harmonia. At the end of the hall was the sales booth, and a stage reserved for the talk show later that afternoon.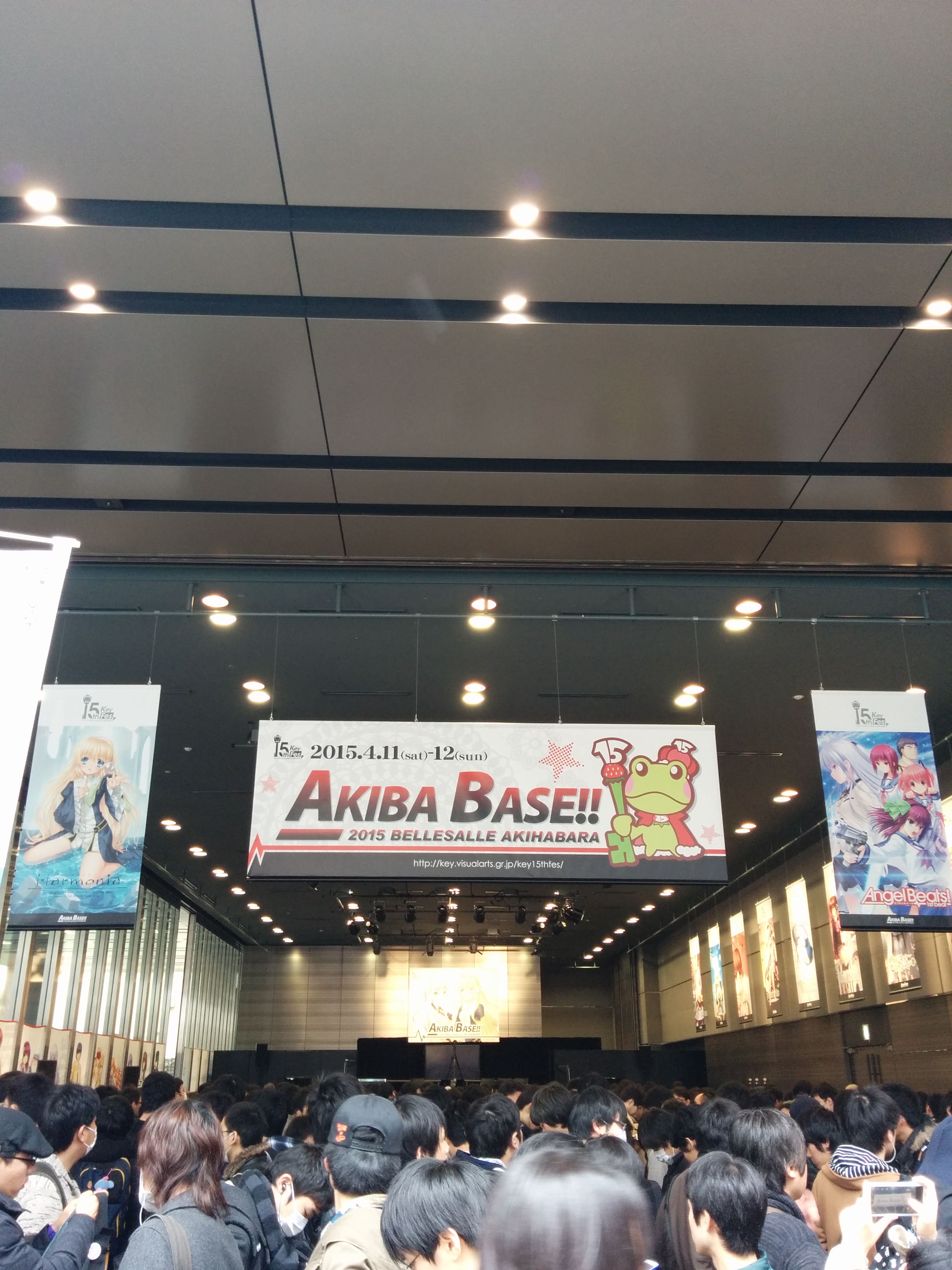 Key Linecon 2015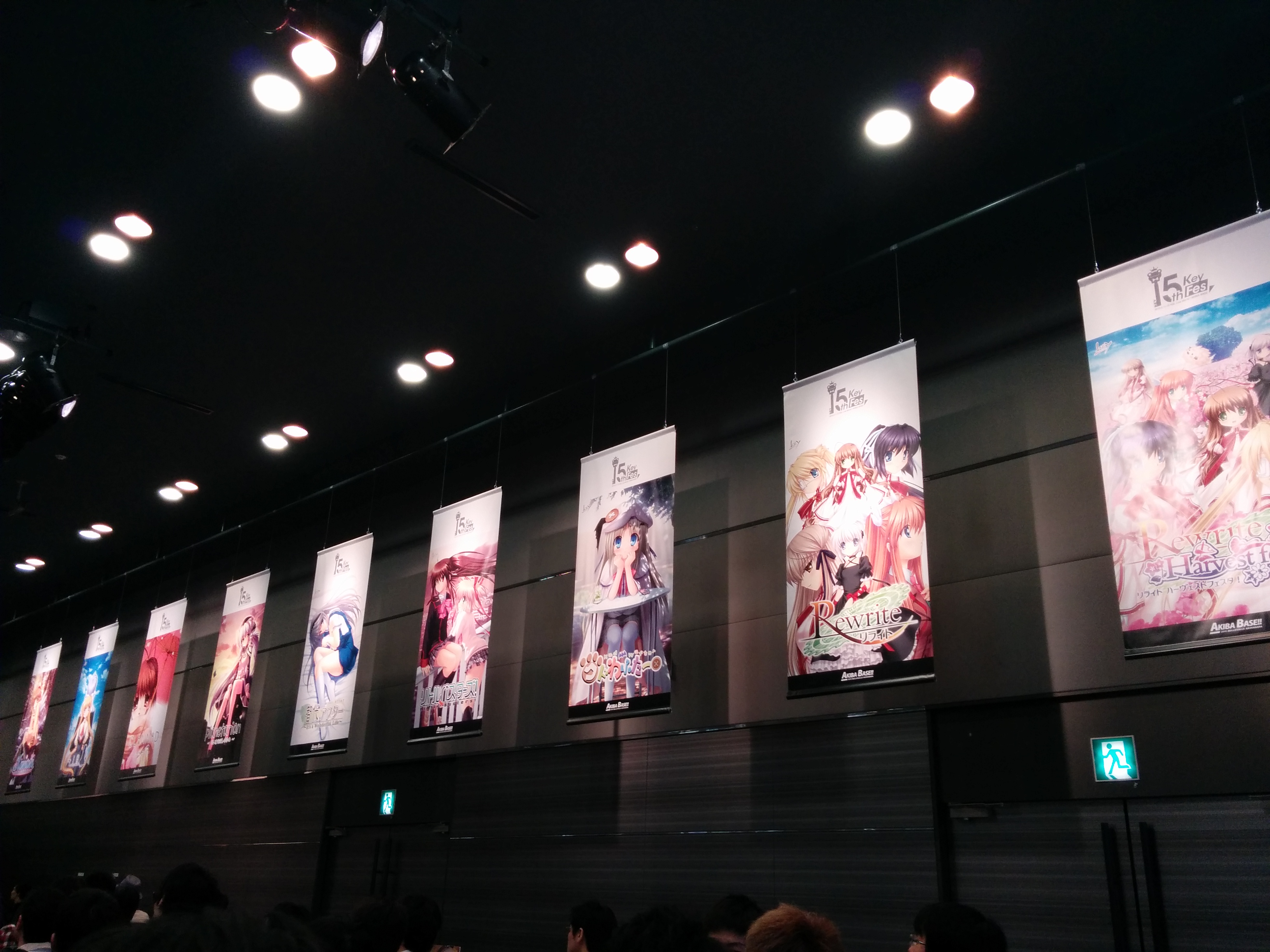 They actually remembered planetarian this time!
Along the other side of the event space was a big feature of Angel Beats! -1st Beat- including huge posters of each of the characters included in the game, along with cosplay outfits of the three main characters of 1st Beat.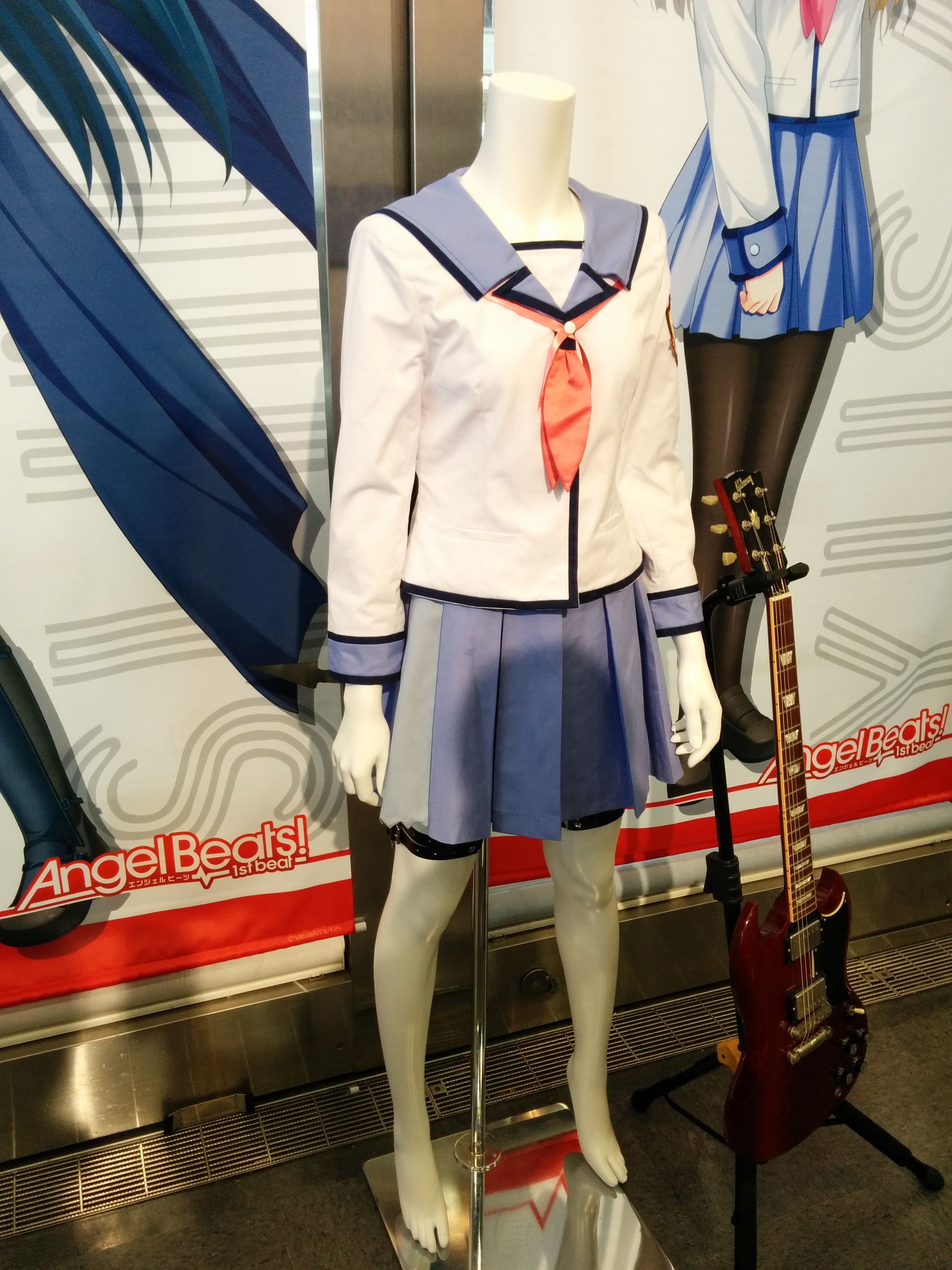 Yui-nyan outfit, complete with Yui-nyan guitar and Yui-nyan tail
Matsushita's outfit seems to imply that he's been having too much Niku Udon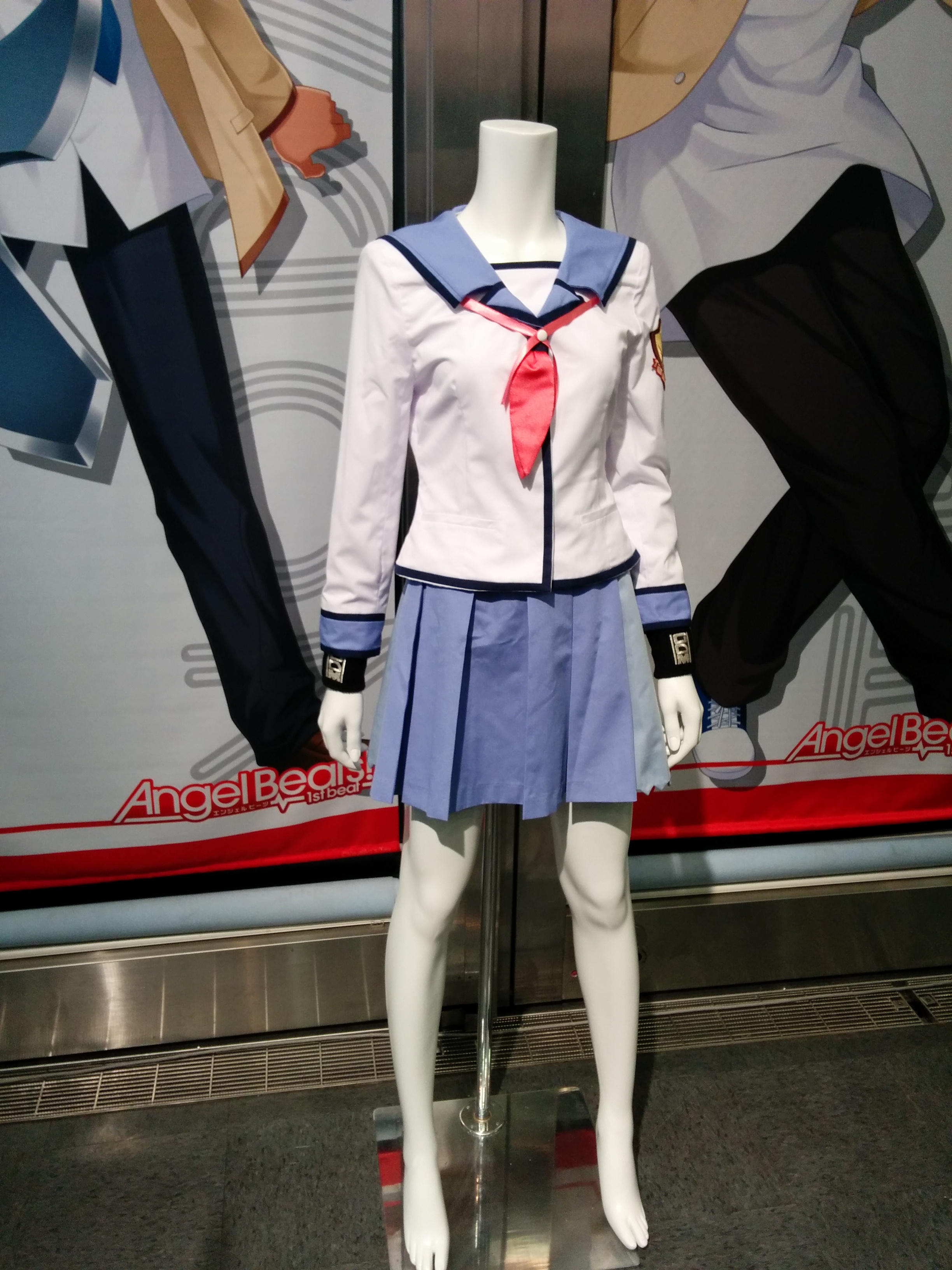 They even added in Iwasawa's wristbands (which were being sold at the event)
Inside the line, fans were treated to previews and rough sketches of the numerous CGs from the upcoming Angel Beats! -1st Beat- game. Towards the end of the line was a replica of Yuri Nakamura's Beretta 92.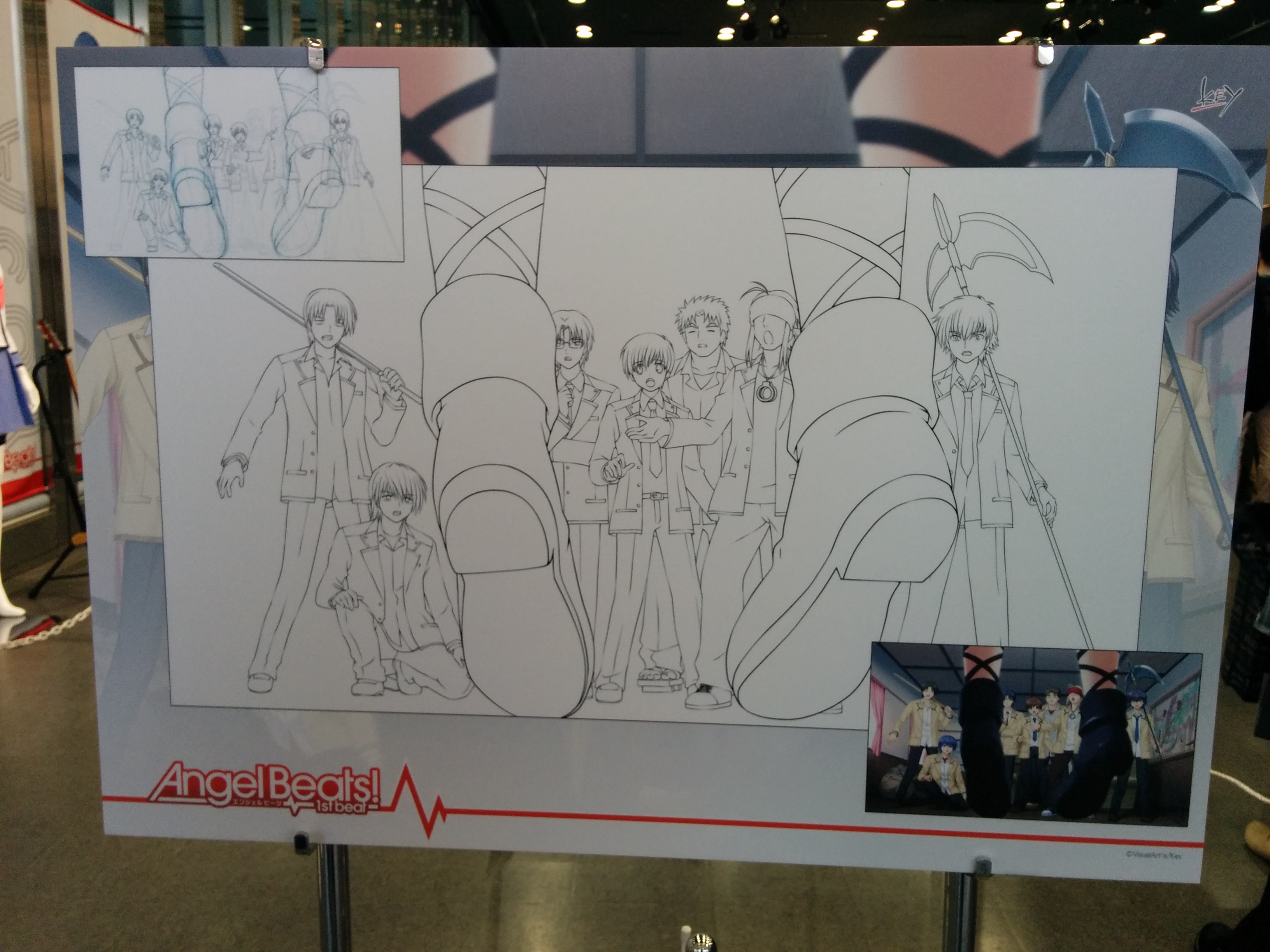 Ohh my! She's a crazy baby.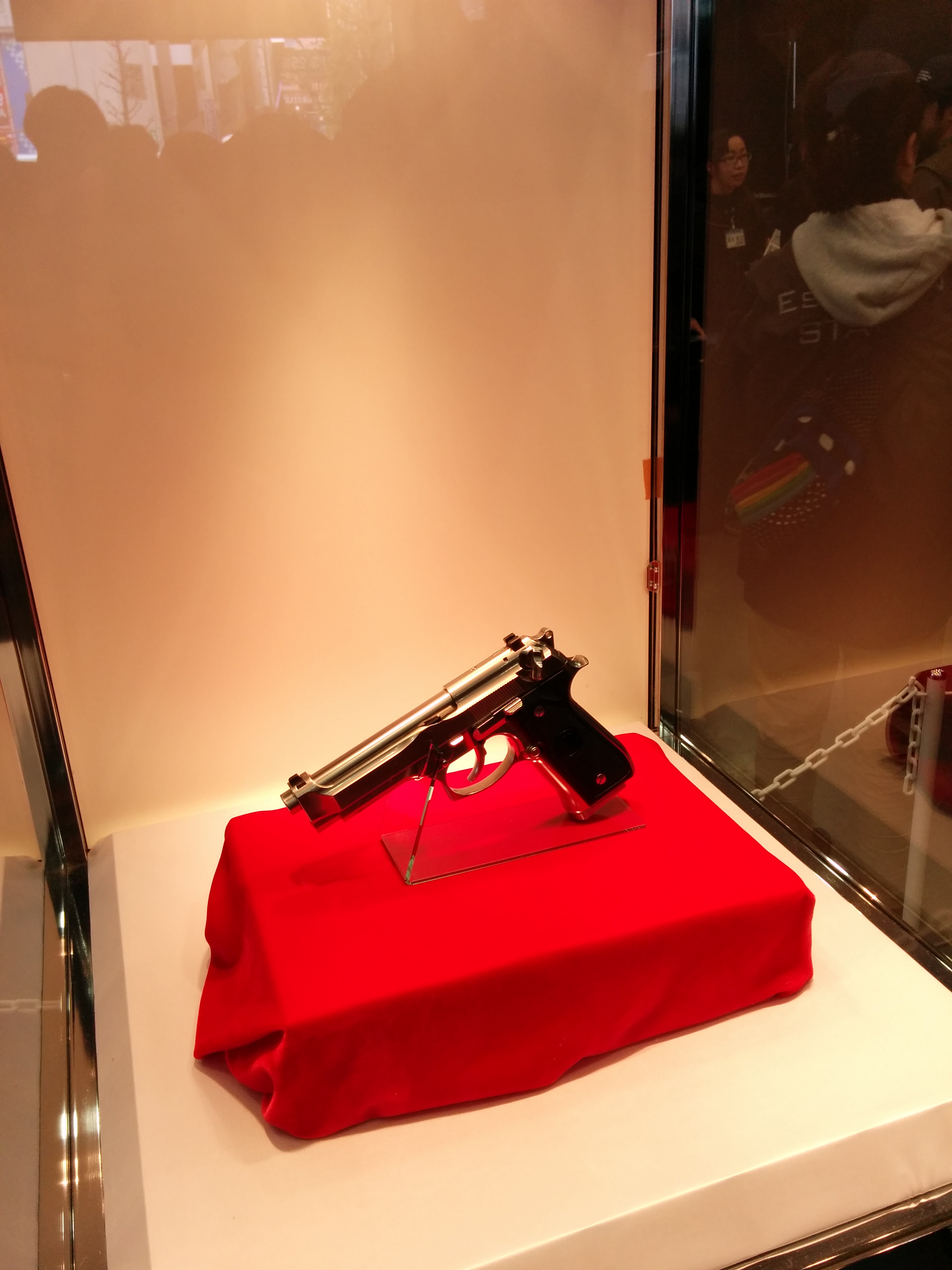 Shiny~
I eventually reached the sales booth and got myself a few of the goods. One interesting item only available at Akiba Base!! was a scratch card that could get you a selection of items including pens, clear files, and posters. I myself got a clear file, which is pretty great, considering I like to collect clear files.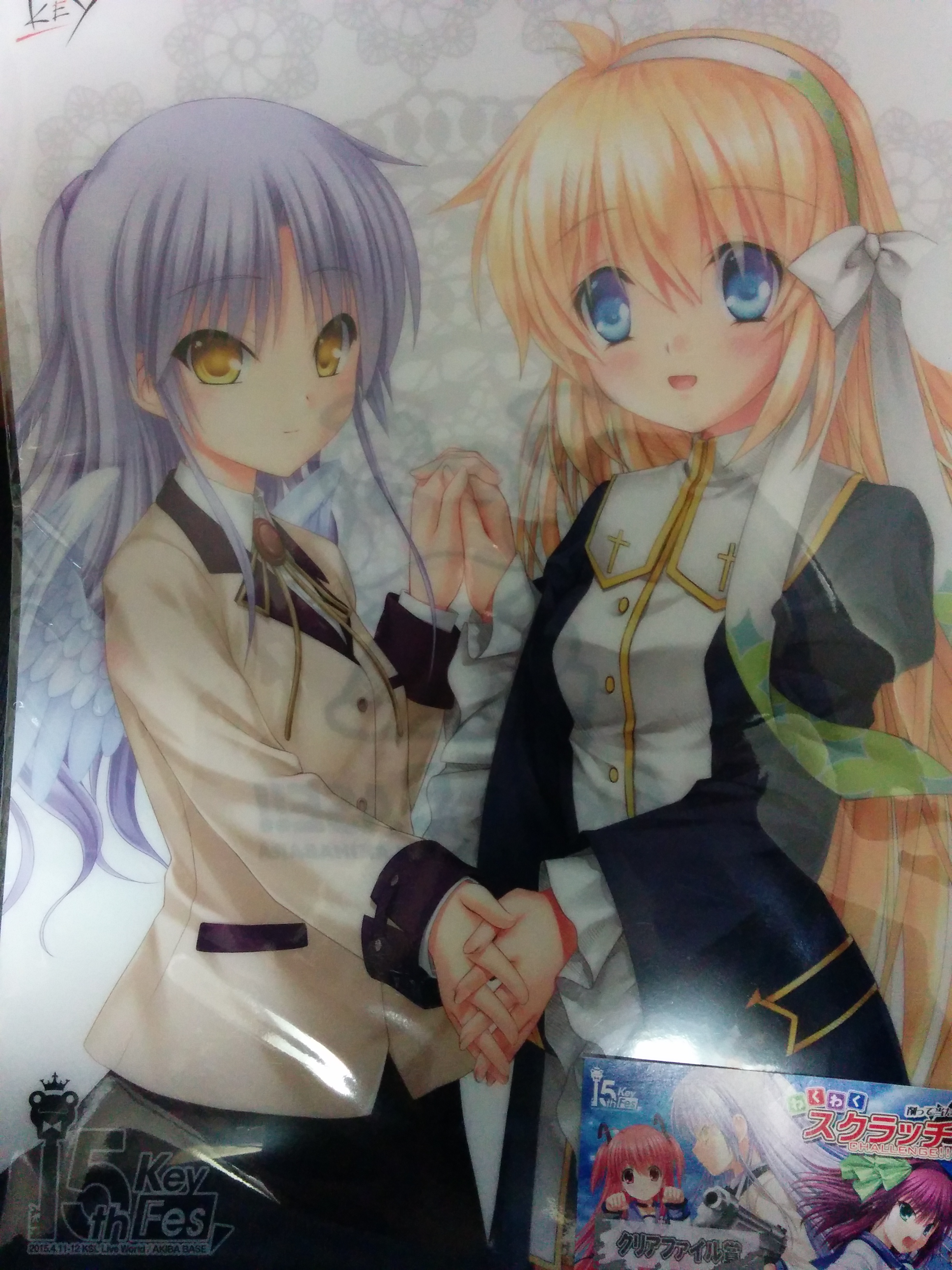 I pretty much broke-even with the scratch card
At 2:30 pm, they started the talk show entitled Key Channel~ Kande wa Ikenai! (Key Channel~ Biting not allowed) which was a few minutes after I bought my stuff. Unfortunately, because of my inability to understand spoken Japanese, I didn't quite get what they were talking about, and left after about 5 minutes. From what I could gather, a few of the Key staff were reminiscing on their time working on their older works like Kanon, AIR, CLANNAD, Little Busters! and Rewrite. Kai, Itaru Hinoue, and Shinji Orito, among others, were present among those in the talkshow. And yes, Itaru Hinoue showed her face in public! And no, pictures were not allowed during the talk show (and it would be pretty disrespectful to try and snatch one), so I won't provide any paparazzi photos.
Because I had a ticket for KSL Live World way to the Angel Beats! -1st- later that day, I left the event space early to start preparing for the live event, which I will cover in a succeeding article. Please look forward to it!
On April 12, I wasn't able to visit Akiba Base!! in the morning because I went straight to another event, Keypoints 7, which I will also be covering in another article. However, my sources tell me that the line was significantly shorter on the second day, taking only 45 minutes from the end of the line to the sales booth.
I was planning to catch the 2nd part of the talk show, which was supposed to start at 3:00 pm that day, but due to unforeseen circumstances with the JR East train system, by the time I got to Akihabara, it was already over.
There were some new things added in the second day, however. The first thing I noticed was a big cloth curtain beside the Cospa booth where visitors were allowed too write down 'Thank You' messages for Key's 15th Anniversary. Surprisingly, the messages weren't entirely in Japanese, as one French fan was able to put down their message. I took the time to write down a message promoting Kazamatsuri.org!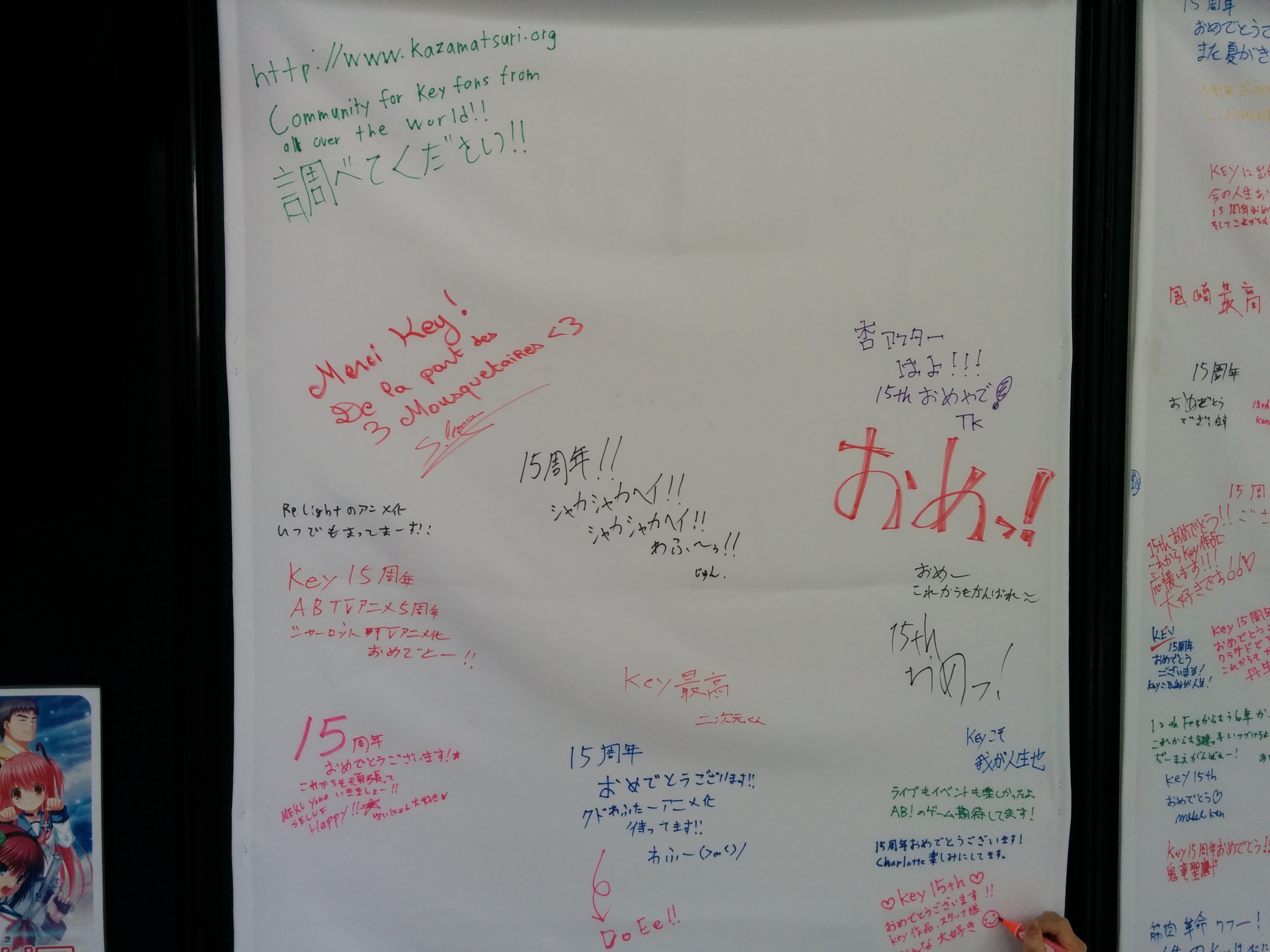 I sure do hope it reaches them! Pardon the terrible handwriting, though
Another addition to Cospa's booth was a feature of their different cosplay versions of the Key series' female school uniform. It actually might have been there the previous day and I didn't notice it, but either way, it looked really good!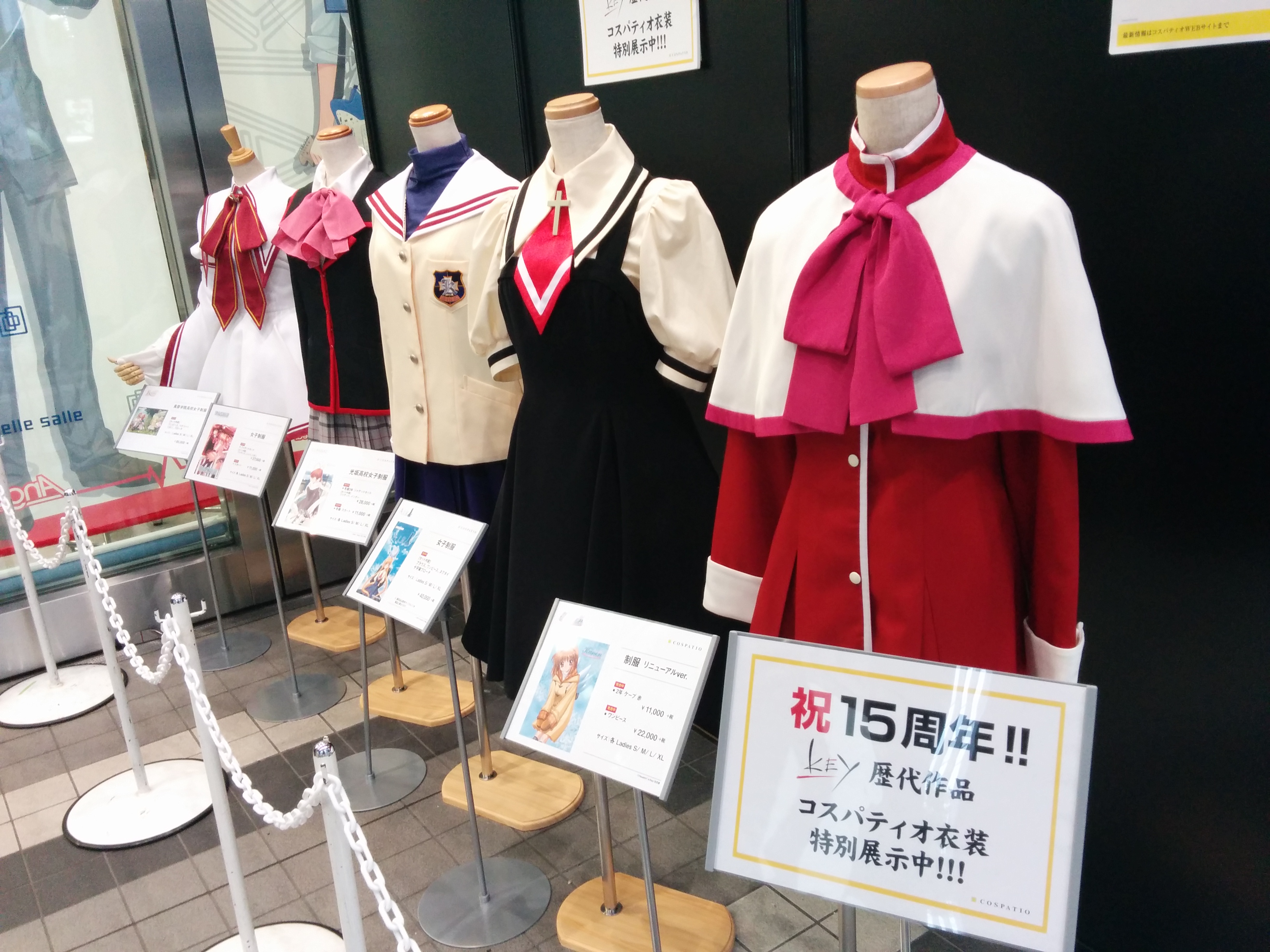 Cospa sure does make great quality stuff
A few minutes after arriving, at about 4:30 pm, they started the final event for Akiba Base!!, Zekuu Tooru no Kagikko Charity Auction! ~Nande mo dashimasu~ (Zekuu Tooru's Key Fan Charity Auction! ~Anything goes~). To put it short, it's a charity auction organized by Key and Tooru Zekuu where both Key fans and Key themselves would be auctioning off items to the highest bidder. They rearranged the Angel Beats! -1st Beat- CGs to make space for the auction.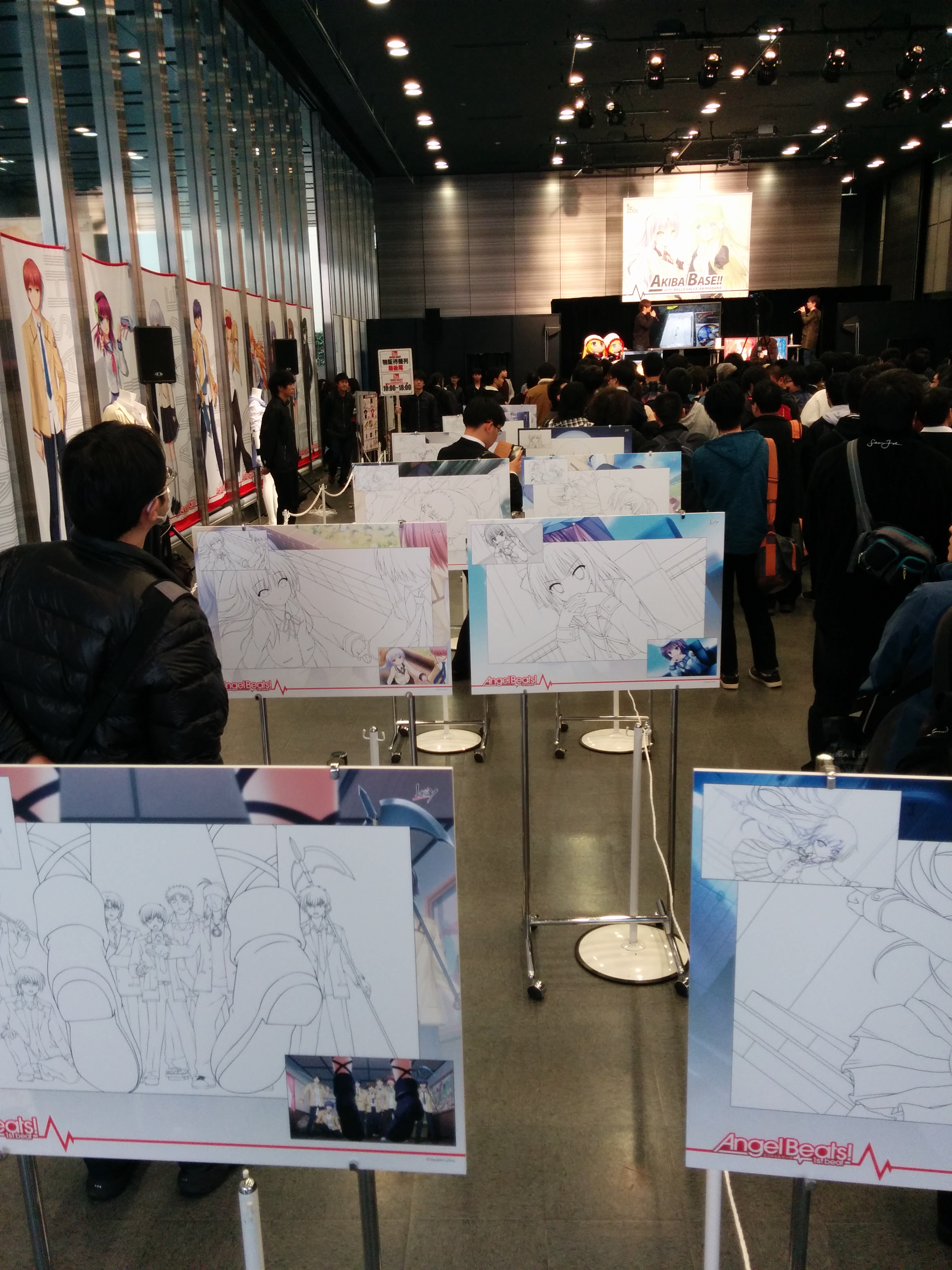 Gotta make way for the exciting auction
I didn't catch who else was hosting the auction, but Shinji Orito was one of the hosts, along with Tooru Zekuu. Unfortunately, they didn't allow pictures of the auction stage either. One interesting thing about this auction is that they didn't simply just keep raising the price until only one bidder was left; once a certain ceiling price was reached, the rest of the bidders who were ready to pay the announced price would play a match of Janken, the Japanese equivalent of Rock-Paper-Scissors, against Shinji Orito until only one bidder was left.
There were quite a few interesting items, such as towels from previous KSL Live World events, Little Busters! Analog Collector's Edition (KSLA-0041), and other rare items. As the auction went towards the end, the general price of the items being auctioned kept getting higher and higher. One of the last fan-sold items was a set of Kudryavka-related items, including a Kud-design Laptop PC with Kud Wafter pre-installed that sold for 50,000 yen.
The last 4 items for auction were those sold by Key themselves. The first Key item up for auction was a Charlotte tapestry signed by Na-ga, which sold for 100,000 yen. The second was White Clover Special Binding Edition No. 0000. Much like rindou Special Binding Edition being sold at Akiba Base!! (more info here), White Clover was also sold 5 years ago, at Key 10th MEMORIAL FES. However, Key apparently kept one copy of that book with a serial number of 0000 and auctioned it off. It eventually sold for a total of 120,000 yen.
The second to the last item being sold was a Key 15th Fes. board autographed by practically every Voice Actor and Actress that participated in Key's works. I didn't keep track of who signed it, but there sure were a lot of them. They also included 'Congratulations' letters from various Visual Novel companies such as Navel, among others, in this group bid. That sold for 200,000 yen.
The final item, and pinnacle of the auction, were a pair of paintings of Rin Natsume and Yuiko Kurugaya from Little Busters! made by Na-Ga and Itaru Hinoue themselves, which were being displayed at the event space the previous day. Now, for these pieces, they removed the ceiling price, and just kept going until one final bidder remained. It was exciting, to say the least, and you could hear cries of shock and applause from the audience as the price started reaching a million yen. The final bidding price? A whopping 1,200,000 yen. That comes out to nearly US$10,000.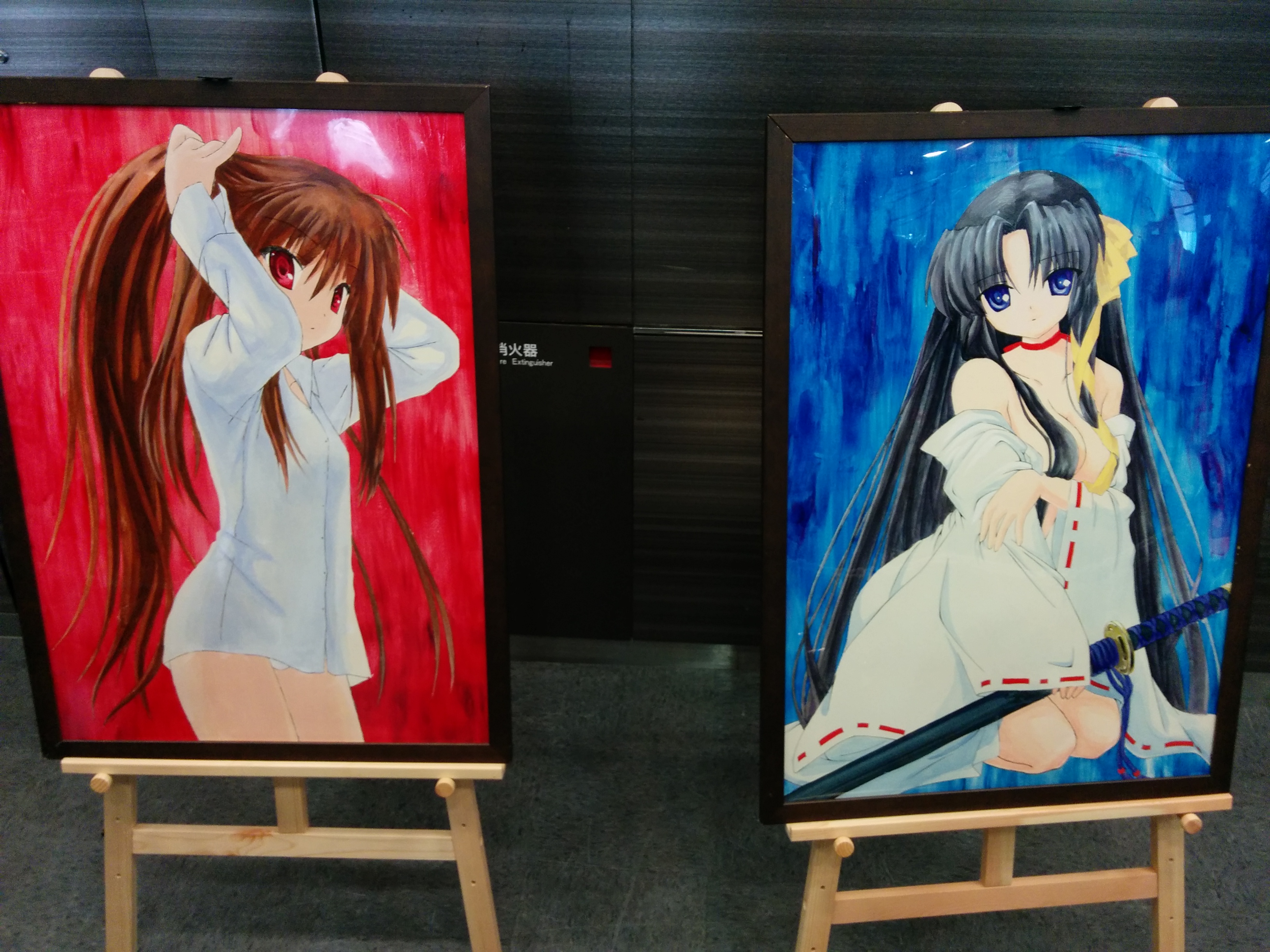 If professional paintings can reach thousands of dollars in auctions, then why shouldn't anime paintings?
And such concludes Akiba Base!! 2015 Bellesale Akihabara. The auction ended at 5:30 pm and they kept the sales booths open until 6:00 pm before closing down and packing up. Like I said in my video, I was somewhat disappointed at first, because I was expecting a large amount of Key-related merchandise to be sold at the event. However, it was still pretty enjoyable, and was good to see the amount of support that the fans have for Key even after 15 years of producing quality Visual Novels.
Now now, that isn't the end of it! Akiba Base!! was just one of the three Key events that occured on the weekend of April 11 and 12, 2015. Stay tuned for the next article, where I will be covering my experience with the 1st day of KSL Live World way to the Angel Beats -1st Beat-. For now, enjoy the rest of the pictures I took at the event.
Key 15th Fes. Akiba Base!!
Big thanks to Kami_chan for joining me on both days and providing some more high quality pictures of the event.