The Monthly Terra Podcast - May 2015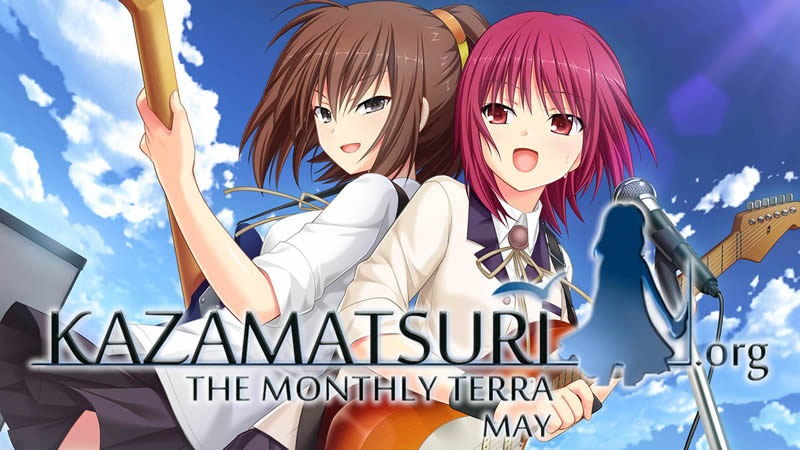 Welcome to the Talentmatsuri Podcast! Funny enough, I (Aspirety) wasn't present for the recording of this one, so I handed it over to Biz to host the episode for me, with the help of LinkThinks, Yerian and EisenKoubu. But fear not, I'll continue to haunt this episode from beyond! So much awesome community content to talk about in this episode. There's been some amazing work by the fans this month, and so many musical creations! We ended up going quite a bit overtime with this one, but since half the episode is community stuff, we hope you won't mind this time~ Time to shift into Charlotte mode!
As always, you can subscribe to our xml feed here, or download an mp3 of the podcast here.
0:35 - AIR Bookclub
4:03 - CLANNAD Production Update #2
7:44 - Angel Beats! -1st beat- has gone gold!
8:55 - Million Star Preview
10:20 - Angel Beats! -1st beat- Trial Released Online
12:13 - Angel Beats! Blu-Ray Box
14:00 - Hell's Kitchen PV
15:54 - Angel Beats! / Charlotte Alarm & News App
16:42 - Charlotte Main Voice Cast Revealed!
19:33 - New VisualArt's merch to be sold at cons
22:36 - Charlotte Info Page, Harmonia Info Page, planetarian Bookclub Page, AIR Bookclub Page.
24:34 - COMMUNITY CORNER!
25:04 - Angel Beats! Forum Topics
26:21 - Angel Beats! -1st beat- Translation Workshop
28:38 - Rewrite Harvest festa! Translation Update
29:41 - AIR Movie Nights
32:28 - Kazamatsuri Chorus: Farewell Song
34:44 - Little Busters Song - Anime in Verse
37:33 - Animenz Key Anime Piano Medley
39:14 - Gentle Jena Corner - I accidentally put LinkThinks' reminiscences cover here in the podcast instead of his Gentle Jena cover. You can check it out in the link. Sorry about that mistake. -Aspirety
44:46 - AIR Bookclub Anthology
46:16 - CLANNAD Bookclub
47:04 - Charlotte Anime Bookclub
51:41 - Kazamatsuri Public IRC Channel
Music used
0:00 - Tori no Uta -Cosmic Seekers Remix- - OTSU Club Music Compilation Vol.1
4:12 - Spring Wind -afternoon- - CLANNAD Original Soundtrack
7:48 - Million Star (Short ver.)
10:32 - kanade - Angel Beats! Original Soundtrack
14:02 - let's operation - Angel Beats! Original Soundtrack
16:08 - Crow Song (DJ Shimamura Remix) - Keep The Dancing Beats!
21:14 - Enishi - FARAWAY by Studio Nocturne
26:29 - Quaesitor - Rewrite Harvest festa! Original Soundtrack
29:51 - Shinwa e no Izanai (Part 1) - AIR the motion picture Soundtrack
32:23 - Farewell Song by Kazamatsuri Chorus
34:50 - Little Busters Song - Anime in Verse by rpgcaster
37:16 - Air (TV), Kanon (2006), Clannad After Story - Piano Medley by Animenz
39:17 - Reminiscences by LinkThinks (my bad)
41:06 - Gentle Jena (SuikaShoujo Ver.)
44:37 - Haruka Kanata - Svenson Remix - OTSU Club Music Compilation Vol.2