Kazamatsuri.org Podcast: The Monthly Terra January 2015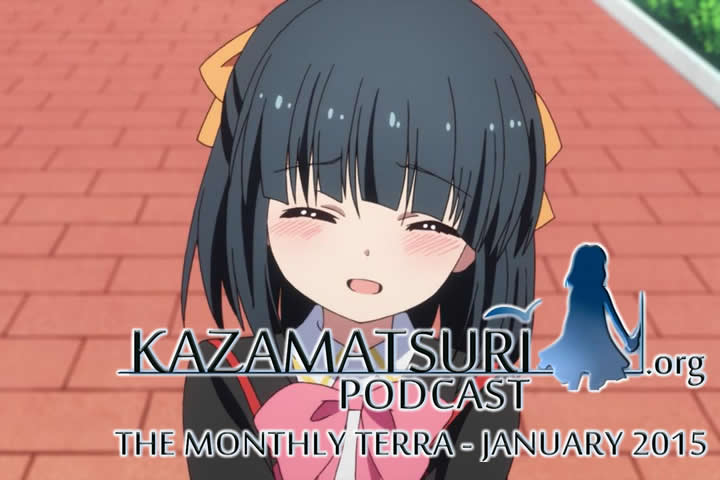 We're back again with the January edition of The Monthly Terra! Due to a lack of foresight, we decided to go with the original cast for this episode, leaving future episodes to the new cast (which we're right in the process of determining). In this episode we chat about Angel Beats! preorders, Charlotte details, Suginami, Masato x Kagari, the AIR BOOKCLUB, and the Minecraft Little Busters! school project. We hope you enjoy this final podcast with the regular crew before we start mixing things up! Joining me today are Bizkitdoh, Rabla, Pepe, LinkThinks and Rune_devros: the whole crew for once!
Don't forget we have an xml so you can subscribe on a media player like itunes: http://kazamatsuri.org/podcast.xml
And you can download the mp3 here: http://kazamatsuri.org/podcast/Kazamatsuri%20Podcast%20-%20The%20Monthly%20Terra%20January%2015.mp3
2:57 - HOLY BREAKER! Retail Release and Sequel Confirmed! HOLY BREAKER! Discussion
6:18 - CLANNAD LINE Stickers Released! The unapproved Little Busters! Stickers
10:33 - Angel Beats! -1st beat- available for preorder!
13:43 - Dengeki G's leak yields new Charlotte details!
20:44 - Little Busters! Suginami Mod
24:06 - Forum Spotlight:
Angel Beats! Visual Novel Details & Speculation
Key Rough Sketches, Initial Designs and Scrapped Ideas
Favourite girl in Little Busters! Poll
Charlotte pre-release discussion and speculation
32:24 - Play games with us! Skype Chat, Gaming Accounts.
34:59 - Help us finish building the Little Busters! school in Minecraft!
Music featured:
Rewrite Original Soundtrack: 果実
HOLY BREAKER! Original Soundtrack: 五風十雨
Girl's Dead Monster Keep The Beats! OFFICIAL BAND SCORE: Crow Song (Yui ver.)
Untitled Charlotte PV Music
Little Busters! Original Soundtrack: Slow Curve
AIR Original Soundtrack: 夏影
Little Busters! Original Soundtrack: Day Game
Secret base ~Kimi ga Kureta Mono~ (10 years after ver.)