Kazamatsuri.org Podcast: The Monthly Terra February 2015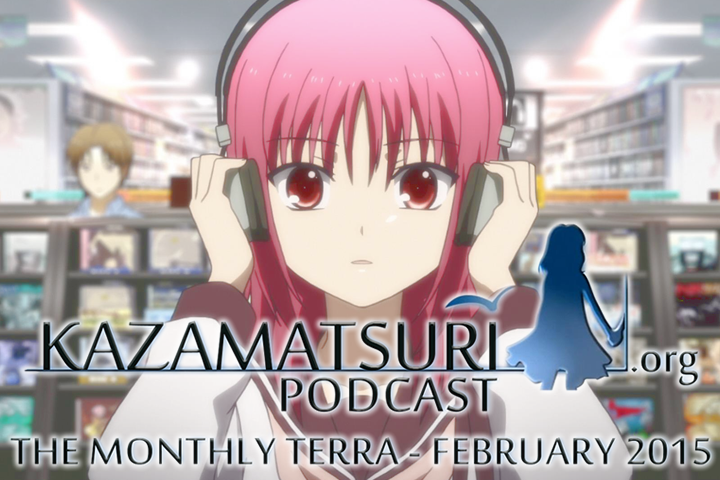 We're back with another edition of The Monthly Terra! Joining me this month are Bizkitdoh, LinkThinks and EisenKoubu! I decided to let Bizkitdoh take the reins of this episode to keep things fresh, so let him know what you think! Toward the end of the episode we chat about the 1 year anniversary of Kazamatsuri.org, and I ask the others to share some words about their experience with Kazamatsuri.org so far. I found their words very touching - definitely a highlight of the episode.
As always, you can subscribe to our xml feed here, or download an mp3 of the podcast here.
1:55 - Angel Beats! OP/ED Available for Preorder
3:50 - Volume 8 of Angel Beats! Heaven's Door Released
5:50 - Angel Beats! Character Poll Results
7:30 - Hibiki's Magic Volume 4 Released
9:07 - Charlotte Exhibit Announced for AnimeJapan 2015
9:51 - Angel Beats! LINE Stickers
11:53 - Charlotte Scans
12:43 - Key 15th Radio Fes
14:05 - Rewrite Released on PS3
16:30 - Megami Engage! Quest
Quick note here - As someone on the forum corrected us, the game has characters from all Key games except Angel Beats!. Sorry about that misconception!
17:40 - VisualArt's Comiket items available for purchase on official store
18:35 - COMMUNITY CORNER!
Little Busters! forum discussion renewed!
AIR BOOKCLUB
21:30 - Kazamatsuri.org One Year Anniversary Reflections
36:42 - ???
Music used:
My Soul, Your Beats! (Instrumental)
SSS - Heavenly Beats by LiLA'c Records
Alchemy - Crow Song by Girls Dead Monster
Reply - Rewrite & Rewrite Harvest festa! Arrange Album dye mixture
Boys Don't CRY (Infinite Human Theorem Mix) - Luxurious Cattail by Lost Garden
God Bless You - Last Song by Girls Dead Monster
Brave Song (Heavenly Trance Mix) - Heavenly Beats by LiLA'c Records