Weekly Charlotte Music Update #12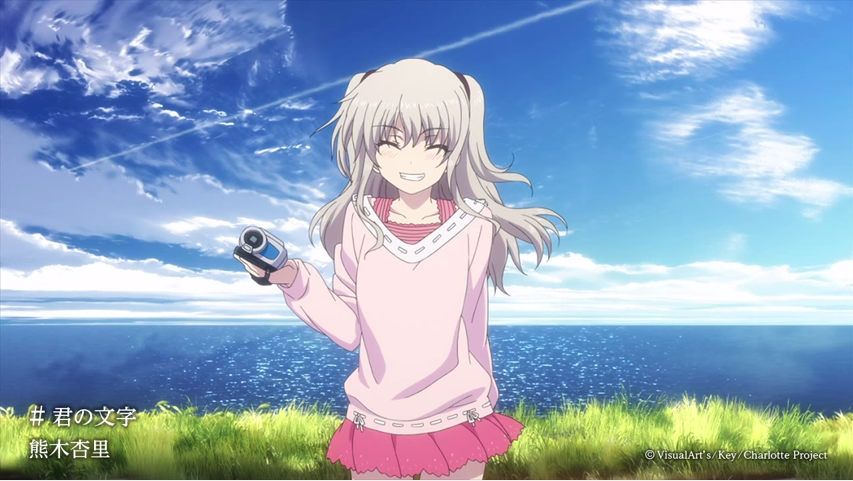 Have some tea or have some espresso, it's time for this week's Charlotte music update! Here's hoping all of you have seen the final episode of Charlotte! While the reaction to this episode, and the series as a whole, was pretty controversial, I'm sure most of you loved the track played by the end of the episode. Well, you're in for a treat, as VisualArt's posted the full length version of the song, entitled Kimi no Moji, on their YouTube channel. Absolutely great song, and you can expect it to appear on the Charlotte Original Soundtrack, to be released on November 4, 2015. If you've seen Episode 13, have a listen! Otherwise, you might want to stay away if you want avoid music-related spoilers~
Second up, you may remember the campaign about buying all 6 Charlotte CDs netting you a box for all those CDs, designed by Na-Ga himself. Well, Key has just revealed the design of the said box, and it features all of the more prominent characters of the series. Pretty interesting, since this is probably the first time we've seen Na-ga's drawings of some of the other characters. See for yourself!
If you'd like to get the box, however, you'd need to purchase it from one of the partner stores. For those buying it internationally, CDJapan has announced that they will be including it if you buy all six CDs from their site!
And last for this week, today, September 30, marks the release of the very first album from Charlotte, How-Low-Hello's Smells Like Tea, Espresso! Have you all listened to it? Rather, have you all bought yourself a copy? If you haven't yet, you can pick it up from either CDJapan or Play-Asia. And if you have listened to it, what did you all think of it? Let us know in the comments section below!
UPDATE: VisualArt's has just released a preview of the upcoming ZHIEND album, ECHO, on their YouTube channel! ECHO comes out on October 14, 2015, so if you like what you hear, make sure to pick up a copy for yourself!