"A peaceful everyday life hides its fragility. Fear and violence aren't just something in another world, completely unrelated to us. If a disaster happens, we can't change it. But as long as we small gears are linked together, we can keep moving forward, even if it's only one small step."
Little Busters! is Key's 6th visual novel, released in 2007. It is told through the perspective of the timid narcoleptic protagonist, Riki Naoe. The story follows a group of childhood friends who call themselves the Little Busters, and in their final years of high school decide to form a baseball team. Riki is entrusted with the job of recruiting members, and the common route follows his experiences as he expands the size of the group to include five new girls. The group, now at full size, spend their time playing baseball, having nonsensical battles, and getting up to all sorts of fun events together. However, it soon becomes apparent to Riki that these fun times won't last forever, and as the story progresses, Riki finds himself getting involved with the individual trauma of each of the 6 main heroines, before reaching the heart of the story where Riki is forced to uncover the 'secret of the world' that remains hidden behind everything. Little Busters! is regarded by many as Key's best work, featuring some of the most memorable cast of any Key game, and unparalleled emotional impact in the latter portion of the story.
Important Note: The Ecstasy version of Little Busters! contains pornographic content. If you are not over the legal age, then please read a different version.
Format
The game starts you in the common route, which is filled with slice-of-life-esque comedy scenes and minigames, before branching off into 6 (+3 in EX) character routes. After completing all of them, you unlock Refrain, the climax of the story. Leo Kashida wrote Mio's route. Chika Shirokiri wrote Haruka, Kud and Kanata's routes. Yuto Tonokawa wrote Komari, Kurugaya and Sasami's routes. Jun Maeda wrote Rin, Refrain and Saya. You can see the total line counts for each route here, and I've also done some rough calculations to show how long it is. In total, the estimated length of Little Busters! is 511k words (721k for EX/ME), and reports of how long it takes to complete average around 55-85 hours. (I know that's a wide average, but the counts didn't specify whether it was the original or EX.)
If you ever find yourself in need of a walkthrough, we have you covered.
Franchise
The original visual novel was released on the 4th of June 2007, but has since received numerous updates and ports to different platforms. Little Busters! Ecstasy (aka. Little Busters! EX) was released on the 25th of July, 2008 as Key's 7th visual novel, and updated the game with three additional character routes, and h-scenes for all of the heroines. The pornographic content was once again removed for all future releases, including the 2009 Key 10th Memorial Box release (Memorial Edition, aka ME), the 2010 Little Busters! Converted Edition for PSP, and Perfect Edition released on the 30th of November 2012. The visual novels were best-sellers in Japan, and have spawned a massive franchise including novels, manga and a complete anime adaptation. A spinoff sequel starring Kudryavka Noumi titled Kud Wafter was released later in 2010.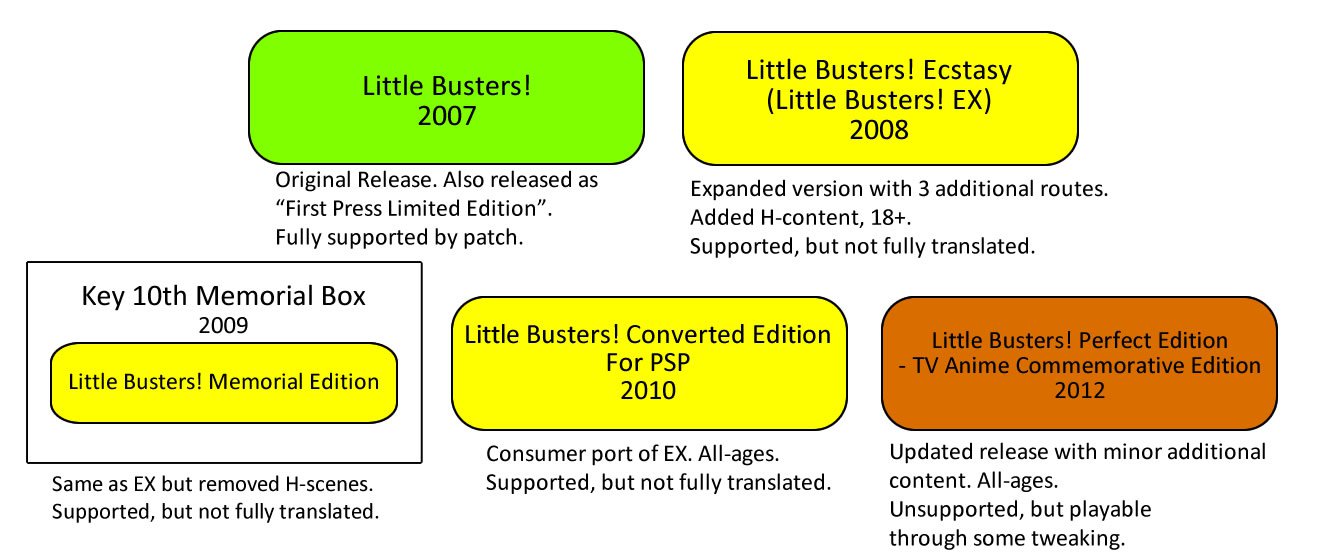 How to Read
An official localisation for the title has been announced by VisualArt's, in collaboration with the authors of the fan translation, Fruitbat Factory! Out of respect we won't be including instructions to download the translation patch here. Please look forward to the official release!
Where To Buy
You can purchase the original Little Busters! from amazon.co.jp here. If you're unsure how to purchase goods from amazon.co.jp, here is a helpful guide. Otherwise, you can find Little Busters! Perfect Edition from various international retailers:
J-List
Amazon.com
You can also try searching on Ebay. A quick search right now yielded auctions for EX and Perfect Edition. Little Busters! Converted Edition for PSP also has an English patch, and still seems to be available from some retailers: CDJapan Play-Asia Amazon.com
Little Busters! for Steam is coming soon!
Anime
The anime was produced by J.C. Staff and spans a 26-episode first season, a 13-episode second season titled "Little Busters! Refrain" and an 8-episode OVA series titled "Little Busters! EX". The series covers the entirety of the Little Busters! story, with the exception of a few scenes that were cut to fit the time constraints of the series.  It was met with a very mixed reception, but some feel that it was a perfectly decent adaptation. The series has been localised into English with a full English Dub by Sentai Filmworks.
The complete first season can be purchased from Sentai Filmworks in DVD and Blu-ray for North American regions (Season 1, Refrain). The first season can also be purchased in Australia from Hanabee Entertainment (Season 1, Refrain).
You can also stream the series online from The Anime Network (Season 1, Refrain) (for US and Canada residents only), Hanabee.com.au (Australia only) and Crunchyroll (worldwide).
General Discussion Topic & Forum Index
VNDB Page
Wikipedia Page (SPOILER WARNING)