Weekly Charlotte Music Update #8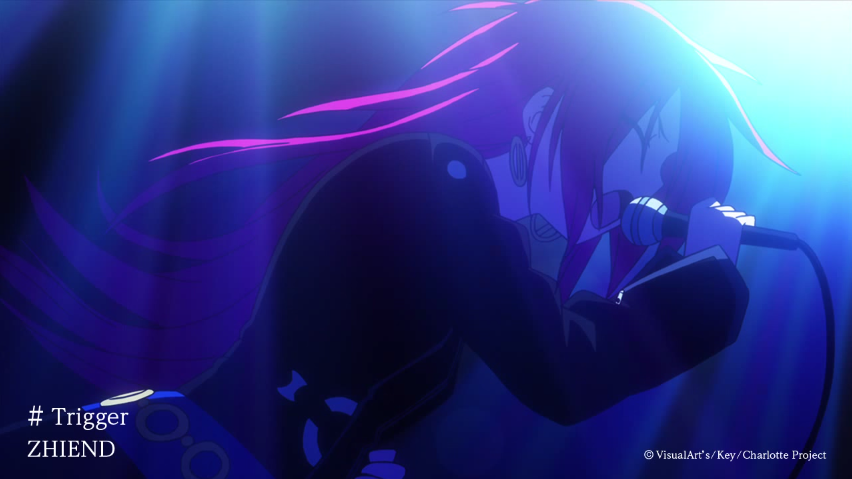 Welcome, gypsy, to our secret music update~ Well nothing secret about this anymore! We have a two-fold update from the VisualArt's YouTube channel this week. First up is Hatsunetsu Days which we heard last week from both Episode 8 of Charlotte and last week's Charlotte radio. Check it out, now in high quality! Unfortunately, the PV was not uploaded in high quality...
Last week, we were unfortunately denied our weekly fill of ZHIEND. They make it up this week with a high quality version of a brand new song, Trigger! You may remember hearing part of this song in Charlotte's Episode 9. This song is also the titular song of the upcoming ZHIEND single, to be released on September 9, 2015! Check it out, and if you like it, be sure to pick up the single next week~
Now for this week's Charlotte radio, we had marina herself featured as a guest. As expected, a brand new ZHIEND song was revealed, entitled Vanishing Day. ZHIEND never fails to amaze me with the amount of variety they put in their music, and Vanishing Day is no exception. Check it!
Last up for this update: today, September 2, 2015, marks the release date of the new How-Low-Hello single, Rakuen Made! If you've listened to it, let us know what you think in the comments below. If you haven't, then make sure to pick up a copy at Play-Asia or CDJapan!