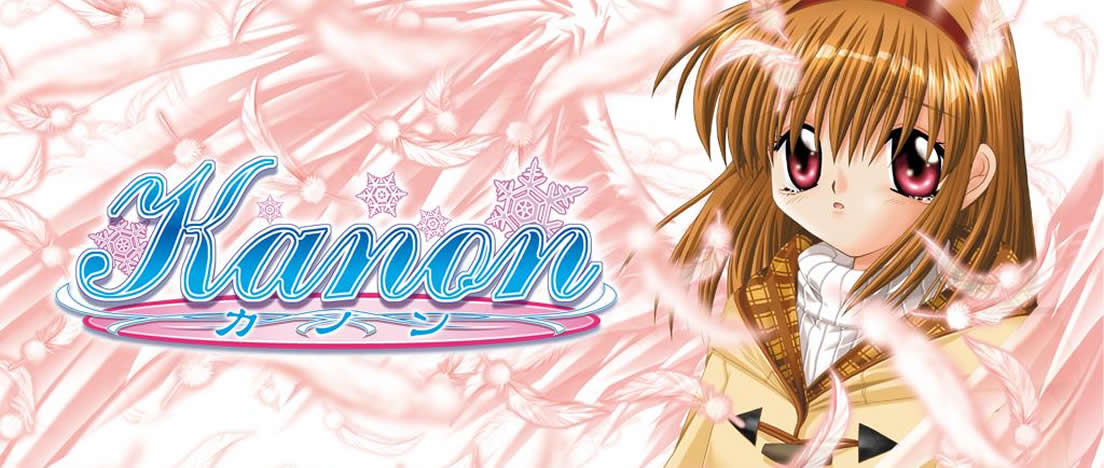 "When you're halfway through a story, you want to be able to look forward to a happy ending, right? You don't want it to be sad, life's tough enough without that. I believe that's where fiction came from... people dreaming about a world where things end happily."
Kanon is Key's 1st visual novel, released in 1999. It tells the story of protagonist Yuuichi Aizawa's return to the town of his childhood in winter, having forgotten almost everything. In the time he spends in the town, he meets a number of people from his past he's forgotten about, as well as some new faces. As he interacts with five girls from the town, they begin opening up to him and revealing their personal trauma, much of which is rooted in the supernatural. Kanon was groundbreaking for it's time, and is considered a pioneer of the nakige genre of visual novels, and set the standard for many visual novels to come.
Important Note: Depending on which version of the game you play, it may contain pornographic content. Do not play the 18+ versions unless you are of legal age.
Format
The game sets the standard for most of Key's bishoujo titles. It starts off in a common route where the reader make choices and spend time with the five heroines. The choices the reader makes will determine which route they end up continuing on until the game's end. There are five character routes corresponding to each of the main girls. Mai and Makoto's routes were written by Jun Maeda, while Shiori, Nayuki and Ayu's routes were written by Naoki Hisaya. Unlike future titles, however, there is no 'true end' of Kanon. Each route is its own independent story, and each ending holds as much canonical significance as any of the others. The game clocks in at around 38474 lines, totalling approximately 35 hours of playtime.
If you find yourself needing help progressing through the game, here is a walkthrough.
Franchise
Kanon was originally released as an adult game on the 4th of June 1999, pleasing audiences with it's (at the time) impressive visuals. It was re-released on 7th of January 2000 with an all-ages version, which added additional graphics and some minor tweaks. On the 26th of November 2004, the adult version of the game was re-released as Kanon Standard Edition, adding support for Windows 2000 and XP and released on DVD, while also containing the updates of the previous all-ages version. An all-ages version of Standard Edition was released on the 28th of January 2005. An updated all-ages version compatible with Windows Vista was released within the Key Memorial Box in 2009, and again as a standalone release titled Kanon Memorial Edition on the 30th of April 2010. Numerous ports have also been released for gaming consoles and handheld devices, some of which added voice acting, but I won't bother to mention them here as they haven't received English translations. The game spawned a franchise of light novel adaptations, drama CDs, radio shows, music rearrangement albums, multiple manga adaptations, and two anime series.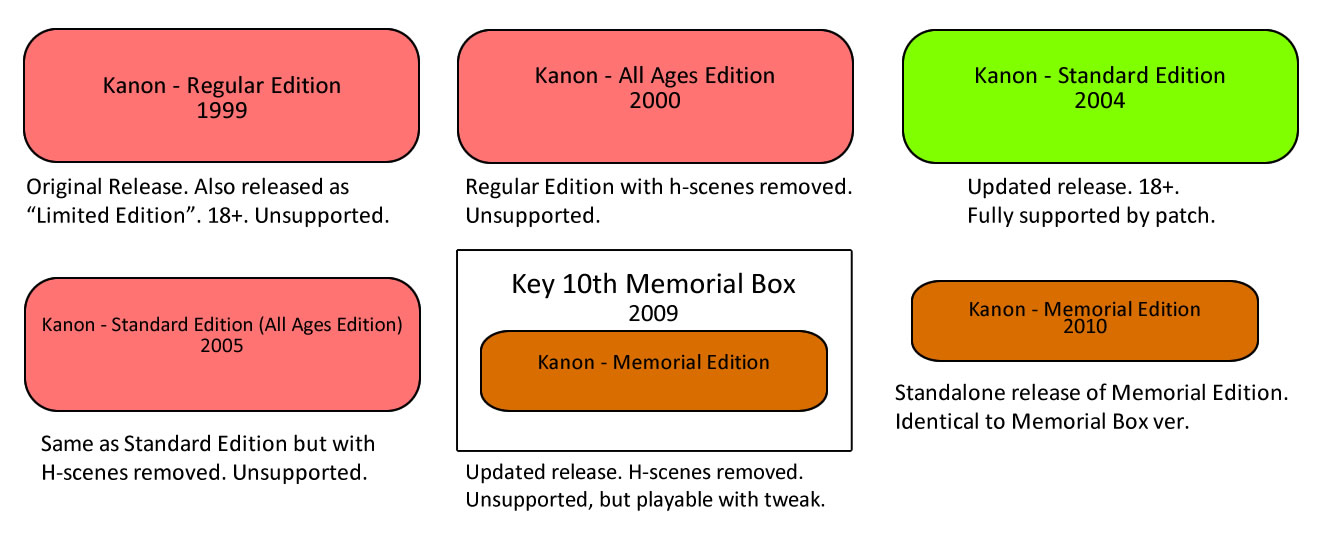 How to Read
Once you have the game, you'll be applying the translation patch by Non-Directional Translations. It translates the entirety of Kanon Standard Edition into English, and even includes an option to remove the H-scenes from the game. For this reason, standard edition is most recommended for English reading. If you're using Memorial Edition, follow these steps to install the patch correctly. You can download the Kanon Standard Edition exe required for this process from here. If you want to play without any 18+ dialogue, be sure to pull the files from the all-ages folder into the Kanon installation directory as well.
As with most Japanese games, the game isn't designed to run on overseas computers, so you have two options. The most reliable method is to change your system locale to Japanese (Guides for Windows and Mac). While reliable, the downside is that it can cause some unwanted side-effects, such as changing the backslash symbol to the yen symbol, some applications installing in Japanese, and some potential issues displaying other languages. Your other option is to use applocale, which you can find here. It tricks applications into thinking your system is Japanese without the side-effects, but it doesn't work for everything.
Where to Buy
Standard Edition: Amazon.com
Memorial Edition: Jlist, Amazon.com
Anime
The series has received two anime adaptations. The first was broadcast by in 2001 and produced by Toei Animation. The series received 13 episodes plus and OVA. Reception to the series was underwhelming, so later Key entrusted the brand with Kyoto Animation, who produced a second 24-episode series which was broadcast in 2006, and retells the entire story with higher quality animation. The reception of the second series was very positive, and most continue to proclaim it as the definitive anime adaptation of the game. The series was later localised with an English dub by Funimation in North America, and brought to Australia by Madman Entertainment.
If you live in North America, you can purchase the second series, watch it for free or watch through Funimation's Elite service on the series page here.
You can purchase the second series in Australia through Madman's website here.
If you live outside of the US or Australia, you're probably going to have to import. Fortunately, Madman does international shipping. If you're interested in importing, make sure your viewing equipment actually supports the Australian DVD you're purchasing. For more information on playability, read their FAQ.
General Discussion Topic & Forum Index
Wikipedia Page
VNDB Page