Introducing The K.E.Y. ~ Key Enthusiast Yearbook

First, some backstory. Back in 2012, some of you may remember there was an initiative to unite the passion of an international community of Key fans to communicate our love to Key themselves. Fans from all over the world were invited to contribute by submitting fanart and letters to Key, which were to be compiled into a book and delivered to Key themselves. It was called the Key15th Anniversary Letter Project, and a lot of our own community participated. Unfortunately, due to various circumstances, the project ended in failure and the few people remaining working on it had no choice but to give up on it ever happening.
Flash forward to 2016. After all this time as passed, the situation has changed quite a bit. Key is no longer the final senpai the international fandom wishes would notice them; we've already been noticed. VisualArt's have embraced the international fandom with loving generosity, localising game after game on Steam to substantial success, and even announcing a future title to be released on Steam in English before anywhere else. Around this time, Kazamatsuri was contacted with the request that we breathe new life into the Key15th project, so that the efforts of those who contributed to it wouldn't be left in vain. The world is a different place now, so it wouldn't feel right to simply finish Key15th as it was. (And we're long past the 15th anniversary by now!) The answer we reached, was a rebirth. A new project to leap forward from the efforts of its predecessor and become something new and exciting.
We're calling it The K.E.Y. ~ Key Enthusiast Yearbook. An English-language fanbook by Key fans, for Key fans. Our hope is to once again ignite the creative passions of the international Key fandom and consolidate them into this awesome book we'll be distributing both as a free PDF and sell as a bound book. By doing this, we hope to communicate to VisualArt's and Key just how thankful we are that they've finally decided to release their titles overseas, and show just how much these stories mean to us.
The K.E.Y. will be separated into chapters, each focusing on one of Key's titles. The book will showcase fanart and other creative work produced by the community, accompanied by written content reflecting on just what these stories mean to us. It's more than just an artbook, we want to create a book that really reflects the love and passion behind the Key fandom, and gives those fans a voice, even the ones that aren't artistically inclined.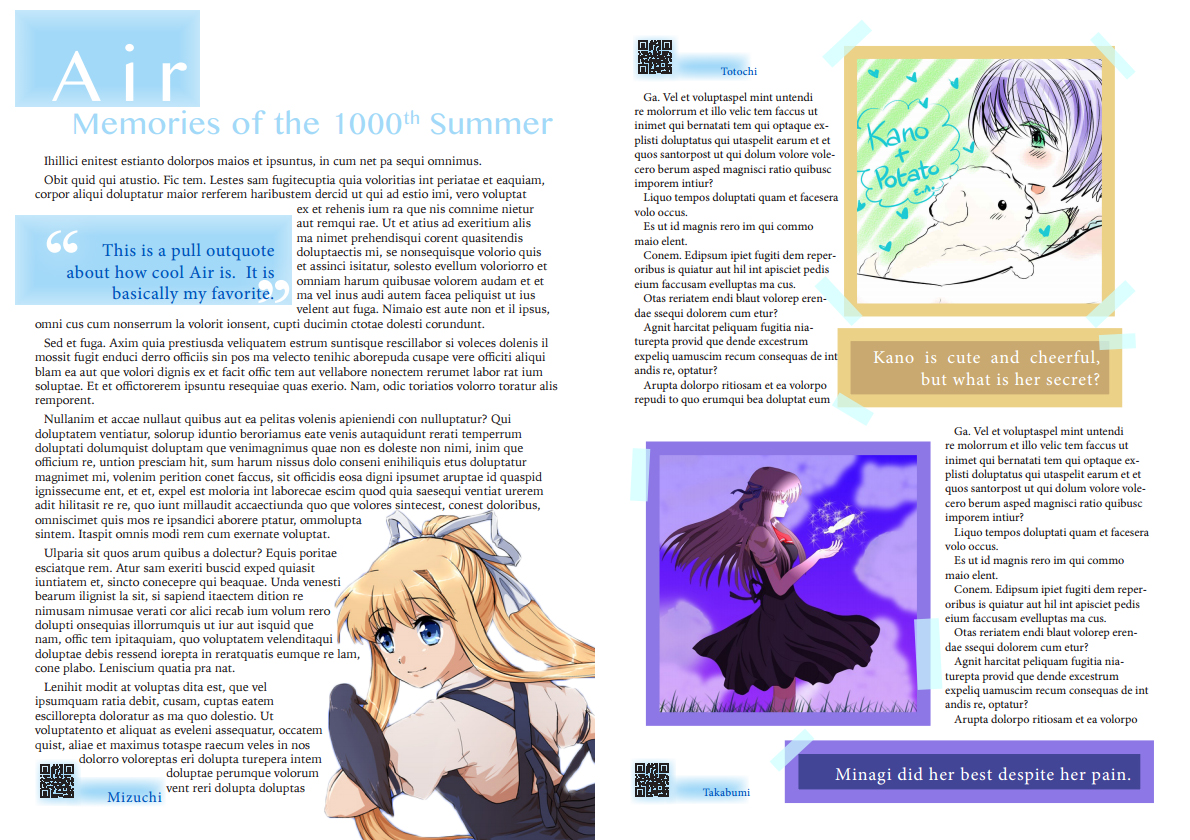 Above is a rough mockup we had our designer kyuketsukimiyu draw up, using fanart posted on the forum. Each chapter will open with a couple of paragraphs talking about the work, and will then split up into smaller sub-sections focusing on each of the routes of the visual novel, clearly signified by fanart. All of this will be provided by you guys and curated by our staff. We'll eventually publish a list content we have and need, which you can take a look through and decide what you'd like to contribute. Maybe Shiori hasn't received any fanart yet, or maybe we need a paragraph on what Yukine's route means to them; you can look at these requests before deciding what you'd like to work on. But in the beginning, it'll be a free-for-all where we'll be accepting any and all kinds of entries, so just throw what you have at us!
On that note, we're not limiting this to new creations. If you have some old Key fanart or creative work lying around that you'd like to put to use in The K.E.Y., then by all means share it with us! The more the merrier in this case. In keeping with our goal of reviving the Key 15th project, we're going to try our best to contact everybody who submitted something for the Key 15th Project to see whether they'd like to incorporate their submission into The K.E.Y., or produce something new for it. It's been a long wait, but we hope to finally see that passion be realised into something. A Japanese translation is under consideration, but that will be decided on later.
But don't think you'll be doing this for nothing either. We are in the process of preparing some exciting prizes to award to our contributors for their efforts on helping make this book a reality. We may be sitting on a certain autographed portrait valued at 50,000 yen, that we might like to give away if we're feeling generous~ More details on these in the future.
The project is accepting contributions starting now, and closing at the end of Jan 2017.
Let's all work together, as an international community of Key fans, to create the biggest and best Key fanbook in the world! A true crystallisation of our love and passion for Key. Spread the word to as many Key fans as you can! #TheKey
Mission Start!
---
Our Tomoyo After giveaway has ended, but don't worry, there will be more to come!