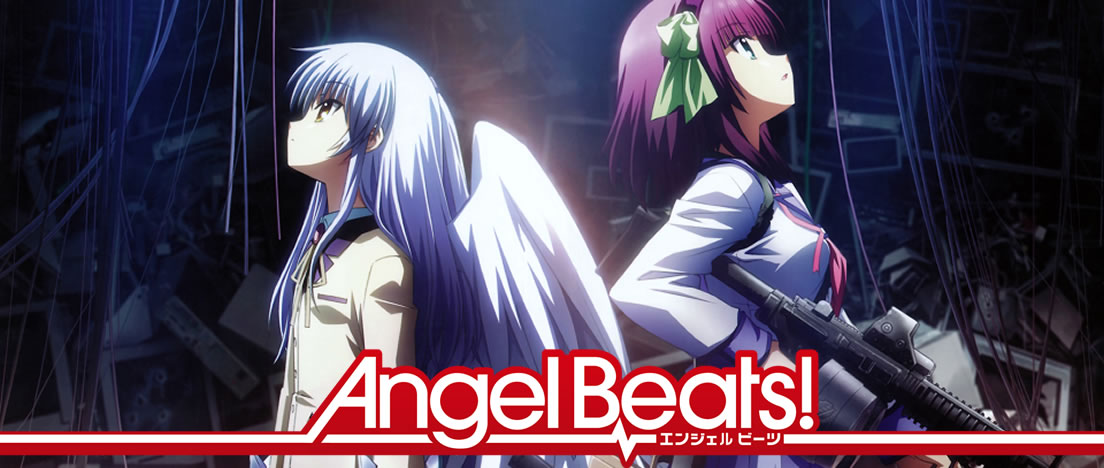 "I believe we only get one life, and it's right here. Only one. This is my life. I won't hand it over to anyone. It can't be stolen. I can't force it on anyone, or forget it, or make it disappear, or trample on it, or laugh it away, or beautify it. I can't do anything about it! It's all just what it is. Cruel, but irreplaceable. All we can do is accept our one and only life. That's why I will fight, and why I will continue fighting. Because a life like that is unacceptable!"
Angel Beats! is a mixed media franchise produced by Key in collaboration with several other companies which spans light novels, manga, anime, music and a visual novel released in six volumes. Unlike Key's other series, Angel Beats! didn't start with a visual novel. The scenario was written by Jun Maeda with character designs by Na-Ga. The general plot of Angel Beats! revolves around a group of teenagers living in a school after death who, frustrated with the circumstances of their life and death, seek to rebel against God. The atmosphere of the story shares the same heavy drama as most of Key's other stories, but with more of a focus on outrageous comedy and action scenes than most of Key's other works. It has seen enormous popularity internationally, and is praised for how well the comedy, action and drama of the story compliment each other in the unique setting of a world where nobody can die.
Franchise
First to be released was the light novel Angel Beats! Track Zero in late 2009, which tells the story of Hideki Hinata and the formation of the SSS, aka the Afterlife Battlefront. The light novel was never expanded, and the story was later continued in the Angel Beats! Heaven's Door manga in May 2010, which adapts the novels and continues the story to this day. Heaven's Door has seen significant critical acclaim, many of our own community vocally praising it over the anime series. In between these two, the Angel Beats! anime began it's broadcast on the 3rd of April 2010, produced by P.A. Works and Aniplex. It tells a story set decades in the future of the original light novel, following Yuzuru Otonashi's recruitment into the SSS and his mission to help his friends find peace with their deaths. A 4koma and Drama CDs were also released for the series, prioritising light-hearted comedy over drama.
Currently in development by Key is the Angel Beats! visual novel, which makes Key's 11th visual novel, set to be split in six volumes, and re-tells the story of the anime series with much greater detail than was ever possible in the original 13 episodes. The first volume, titled Angel Beats! -1st beat-, was released on June 26, 2015.
Visual Novel Format
Currently released is Angel Beats! -1st beat-, which is an all-ages visual novel which sees the reader take control of the protagonist Yuzuru Otonashi and his daily afterlife, in a re-imagining of the anime series' story with added player agency. The common route includes an unprecedented number of choices for the reader to make which influence the course of the story in surprisingly significant ways, even alterning Otonashi's personality in response to the reader's decisions. Each day is split into a morning and afternoon, at which point the reader is presented with a map with characters locations, enabling the reader to choose who he or she wants to interact with each day. By following the correct sequence of choices, the reader will eventually find themselves in a character's route, with the ultimate goal of achieving each character's good ending. Some, but not all routes will be romance-focused. As of now, only Yui, Matsushita and Iwasawa's routes are accessible, but routes for each and every SSS member + Tenshi will be added to the game as content included in each subsequent beat, with 3-4 new character routes per beat, totalling 20. The common route and Iwasawa's route were written by Jun Maeda, with him also planning to write Sekine and Yuri's routes in the future. Joining him as writers are Kai who wrote various routes in CLANNAD, and Leo Kashida who wrote Tomoyo After and Mio's route in Little Busters! writing Matsushita's route. New supporting characters are also promised to be introduced in later beats. For more details on the VN as they're announced and ongoing speculation, check out our topic here.
How to Read the Visual Novel
There is currently no English translation planned for the game, but we'll update this page as soon as a translation effort comes to light.
In the meantime, an alternative for those who can't understand Japanese would be to read through the game using software like Visual Novel Reader, which grabs machine translations of the game's text in real time. It's no secret that machine translations leave a lot to be desired, but for those eager to read the game early, we think you'll find that it is a viable alternative to help understand most of what's happening. As long as you don't expect reliable translations from this method, you should be able to read it pretty comfortably.
If you perhaps are interested in working toward an English translation, maybe drop by our Translation Workshop and say hi. Our community has pooled some helpful resources to anyone interested in taking on the task of translating the game, which may be helpful to some.
Also, please keep in mind that this game contains a region lock for some strange reason. To overcome this, you can use the AlphaROMdiE tool to create a shortcut to the game which ignores the lock. If you find yourself needing help with this or any other technical issues with Key games, refer to our Tech Support Topic.
Where to Buy
Angel Beats! -1st beat- First Press Edition can be purchased from the following:
JBOX
CDJapan
amazon.co.jp through a proxy.
The Anime series can be purchased in the US on DVD or Blu Ray through Sentai Filmworks, in the UK on DVD and Blu Ray through Manga Entertainment (DVD, BD) and in Australia on DVD and Blu Ray through Siren Visual (DVD, BD). The series can also be streamed on Crunchyroll or The Anime Network in the United States, and on AnimeLab in Australia.
General Discussion Topic & Forum Index
VNDB Page
Wikipedia Page